Manchester City 3 Bayern Munich 2: MATCH REPORT
|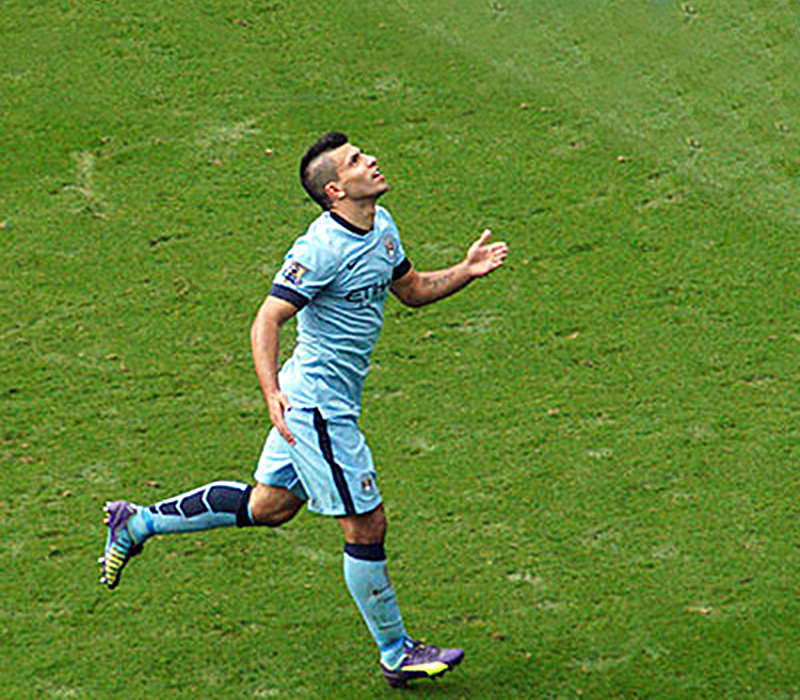 Manchester City 3 Bayern Munich 2   (HT 1-2)
Miraculously, improbably and dramatically, Sergio Aguero scored two late goals to beat a brilliant Bayern Munich side and retain a good chance of qualifying from this Champions League group. Sergio Aguero's world class hat trick was the difference after City had laboured for 80 minutes. Bayern had been markedly superior in their quality, their work rate and positioning. Then somehow City's late charge and, at last, uncharacteristic Bayern mistakes and some breaks fell our way with the ball at the feet of a great player whose finishes were of the highest class – they had to be – to beat Neuer, the best goal keeper in the world. Neuer was beaten by the finest margins and that precision is one of the main reasons why Sergio Aguero is so great. Brilliant. He took our breath away again on a damp night in Manchester that will live long in the memory. Yet it all could have been so different. Bayern's pressing and work rate had put us to shame for most of the game, and they hadn't given any indication that they would concede another goal.
The night started with many of us turning our backs on the UEFA's pretentious Champions League anthem, with plenty of boos. Pellegrini went for the formation that many of us wanted, with Aguero the sole out and out forward with Frank Lampard in an advanced attacking midfield role flaked by James Milner on the left and Jesus Navas on the right. The only contentious decision was his selection of Bacary Sagna over Pablo Zabaleta.
Despite a good few minutes of taking the game to Bayern at a quick tempo, City couldn't sustain it and Bayern were soon on the front foot. The brilliant Robben fired a warning shot wide after 10 minutes. After a teasing, run three minutes later, he crossed from the left and Rafinha's goal bound shot was brilliantly blocked by Mangala. It set the tone for the match and Mangala's astute performance.
City couldn't sit back and a brilliant long pass form Lampard gave us an advantage that should have set us on our way to victory. Sergio Aguero raced after a pass that Andrea Pirlo, Glenn Hoddle or David Silva would be proud of, and was about to pull the trigger when Benatia brought him down. The referee took a long second to give the penalty and send Benatia off, and there was the apprehension of seeing a great penalty taker facing the giant, agile Manuel Neuer, the best goalkeeper in the world who was doing his best to distract Aguero as he waited on the line. Cool as you like, Aguero stepped up and hit the most precise penalty we ever wish for, just inside the right hand post and Neuer's finger tips. It had to be that precise. "Sergio, Sergio!" was sung with gusto, followed by "We'll fight to the end".
For a few minutes City used the man advantage and pressed for a second, but it didn't last as Bayern rose to the challenge. They didn't compromise their attacking intent, keeping a forward line of Lewandowski with Robben to his left and Ribery to his left. It was impossible to tell who had 10 men and who had 11, so good was the quality of Bayern's passing, movement, work rate and positioning. Too often we were static in our movement. This was epitomised by Nasri who played a fine pass out to Navas but failed to make the run into the box to take up an offensive position.
Mangala made his only error of the game when he brought down the turf hugging Lewandowski on the left hand edge of the box. Everybody knew that it wasn't going to end well, with Alonso and Robben both lining up as if to take the kick, either side of Lewandowski. After a lot of arrangement of a wall that was flanked by Bayern players, barking of orders from Joe Hart, spraying of magic foam, not to mention City fans bricking it in the stand, Alonso just curled the ball with ease around the wall and into the net. It was so easy that it was ridiculous. Surely there will need to be a lot of research by Joe Hart and coaches to avoid a repeat.
It was like a haymaker that left a lumbering heavy weight, tottering on the ropes. Belief was shaken. Bayern were buoyed. As the half drew to a close, Rafinha was given freedom to cross from deep on the right. The ball eluded the jum of Kompany and Lewandowski rose above Sagna to loop a header in over Hart who was poorly positioned in no-mans-land, close to his six yard box. If the first goal was a sickening moment, this one was bruising.
The second half did not start well when Fernando gave the ball away to Alonso deep into our half, the Basque midfielder played a one two and mercifully fired over. A 1-3 score line would have been game over.
City were stung into life for a few minutes. Nasri played in Navas with a clever pass but the Spaniard shot was saved at the near post. Milner fired over after Nasri and Lampard combined to tee him up in the 52nd minute, but City couldn't sustain it. Our passing, movement and energy paled when compared to Bayern who confidently maintained possession and played highly intelligent, progressive football. City often chased shadows, and when we did get the ball we were closed down quickly and surrendered possession way too easily. The atmosphere in the home sections was mostly subdued, reflecting the play in front of us. The Bayern section continued their boisterous, repetitive "La-la-la-la-la…Bayern" chants. Not good, unless you're a Bayern fan, that is.
Bayern weren't creating chances, but they looked totally in control.
Pellegrini had made changes bringing on Jovetic for Milner, and Zabaleta for Sagna then Lampard forced Neuer to tip over after Aguero played him in.
Whilst The substitutions were improvements, with Zaba bringing aggression and oomph to our tackling down the right, so much so that he got booked for a raised boot. Zaba made another aggressive sliding tackle to win the ball, and we held our breath, and rightly the referee did nothing. Some referees have sent players off for such tackles, for example Rodwell in a Merseyside Derby three years ago.
Bayern were still in control, but they did start time wasting in the last twenty minutes. Neuer was rightly booked after delaying a goal kick, Ribery and Lewandowski who had been the biggest offenders feigning injury to win free kicks, were particularly slow at walking off when substituted with the latter stopping and pretending to argue. Both inevitably got the bird, but did they care? Not a bit of it. Bayern were on their way to victory, or so they thought.
With Alonso the fulcrum of Bayern's midfield, the visitors were passing the ball round, and City were chasing shadows, or so it seemed. It looked like text book stuff from the Bavarian side. [[[[I even said "This is way to play football"
Then with 84 minutes on the clock, Alonso inexplicably and surprisingly, played a ball across the midfield and Jovetic intercepted and his touch released Aguero who had plenty to do, being fifty yards from goal. But he ran, and ran on with Bayern defenders trailing in his wake, and with great poise, slotted the ball just past Neuer's reach and into the net off the far post. The Etihad erupted with joy: "Sergio, Sergio!". From nowhere, suddenly there was hope. A draw still would gave us a chance if we went on to win in Rome, but it was better to win. Sergio wrestled the ball away from Neuer to get the game going again.
The Bayern crowd fell silent.
With 3 minutes injury flashed up on the board we roared the Boys in Blue on. City suddenly had momentum, and Bayern were the ones who were concerned, and belting the ball away, but that was not enough as City went for it. Even, so we weren't going to make another famous comeback were we?
In the 91st minute Dante cleared down field, Zabaleta hoisted the ball forward first time, and Jovetic flicked on. Boateng failed to control it and his heavy touch fell to Sergio Aguero who motored away from him, before slotting the ball past Neuer and into the net with covering defenders closing in. Extreme joy enveloped us as the lads celebrated by the corner flag in front of us. It was such an exhilarating moment. It was yet another great finish, under pressure from one of the world's greatest strikers. Cometh the hour, cometh the man, again.
Playing well below par, trailing 1-2 against 10 men until deep into a crucial game, then turning it round in the dying minutes? That's never happened before has it! You bet we'll fight to the end, and despite playing below par, this City team can take credit for that, and in particular Sergio Aguero, What a great striker Sergio Aguero is. "Sergio, Sergio!" we boomed.
Sergio, God only knows where we'd be without you…
Att: 44,502
Goals:
City: Aguero 21 (pe), 85, 91
Bayern: Alonso 40, Lewandowski 45
Ratings:
Hart: Had a very poor game.  Set the tone for his performance with an early kick out straight to a Bayern player but got away with it. He has saved us many, many times so it really pains me to be critical of his performance here. His positioning and arrangement of the wall was amateurish and the ease with which Alonso by-passed it showed him up. For Bayern's second goal, he was caught in no-mans-land, except this time he wasn't playing football with the Germans. He was too far off his line and was lobbed too easily. He either has to stay on or near his line or go for the ball. In this case he had a reasonable expectation that Sagna or Kompany would head it away, so he should have been on his line: 4
Sagna: Should have cut out the cross which led to Bayern's second goal. Other than that, he had a decent game, keeping Ribery quiet, which is no mean feat. Didn't offer much going forward, though there were mitigating circumstances with Bayern's dominance of the ball. Still, a full back's first job is to defend, so fair play to him: 7
Kompany: His poorest game for a while. Caught under the ball for the cross which led to Bayern's second. Still, he battled on and improved: 5
Mangala: A very decent game indeed where his athleticism, pace and clean tackling were much in evidence. The one mistake was to give away the free kick that led to Bayern's second, but he more than made up for this throughout. His best moments were a crucial early to deny Rafinha in the first half and a glorious long pass for Navas. Indeed, this was a very impressive show from the young Frenchman who read the game very well: 8
Clichy: Despite the enormous challenge presented by perhaps the best winger in the world, Arjen Robben, he had a good game against him: 7
Fernando: Not his fault that he isn't naturally a high tempo, pressing kind of player, so probably isn't suited to how we need to play. Unable to affect this game much and he almost gave the game away with a stray pass in the second half: 5
Navas: Some good runs, and he never stopped running. Too often his crosses hit the first man though, emphasising the difference in class between him and Robben: 6
Nasri: If he's going to talk about stepping up to the challenge he has got to match the talk with the application. Too often he would play a pass and not move to take the rebound, He could have done more pressing and was guilty of ambling back at times when possession was lost, but he wasn't alone. Still, there were some good moments of link play: 6
Lampard: Played a wonderful long pass which led to our penalty being awarded. Laboured with the pace of the game for a long time, though, and was one of several who surrendered possession, but he found his second wind when pushed deeper after Jovetic came on for Milner. He then found more space and his passing became more progressive. It was in this spell that he almost scored when his long range shot was tipped over by Neuer: 6
Milner: Worked hard all night and did well to support Clichy and reduce Robben's threat, but not many of his forward passes came off. He gave Rafinha too much room to cross for Bayern's second: 6
Aguero: Another demonstration of world class finishing from this City Legend. When called upon, he showed great coolness under pressure. His technique, control and skill is brilliant and he is at the very top of his game. All his goals showed great calmness and poise, the latter two being at the end of runs at speed. Not every striker has those qualities, which make him one of the top three forwards in the World. Great players like Sergio Aguero are rare and treasured: 9 ***Man of the Match, Oh yes***
Subs:
Jovetic (for Milner 66): Lively and can claim two assists for his touches which led to Sergio Aguero's goals: 8
Zabaleta (for Sagna 68): We were far more dynamic for having his presence down the right, and his wel-directed ball forward set up the winner: 8
Demichelis (for Aguero 93): n/a
Best oppo: Robben: The world's best winger was dealt with well by Clichy but still found ways of posing problems for us. Sometimes it looked like he could beat us on his own: 8
Refwatch: Pavel Kravolec: Fell for several of Bayern's dying swan acts, but got most decisions right and was fair and even handed. Not every UEFA referee can be described thus. Had we lost, we could not have blamed him: 7
Phil Banerjee
phil.banerjee@orange.net
(Photography by Richard Tucker)