MATCH REPORT: MANCHESTER CITY 6 QUEENS PARK RANGERS 0
|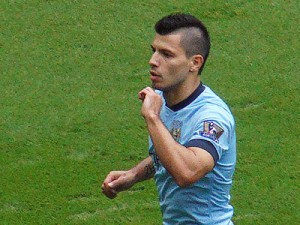 Manchester City 6 QPR 0   (HT 2-0)
Sergio Aguero bagged a hat trick as City turned on the style in a victory that ended QPR's very faint hopes of staying up. City's football was exquisite, thrilling and everything that is good about this team.
Silva oozed class with his highly intelligent, precision passing, movement, and velvet touch and he marked the occasion with his 12th League goal of the season. His combination with the brilliant Aguero was one to savour with one curving pass in the first half being of breath taking precision. Indeed, their interplay was telepathic and a joy to behold. Silva's takes pleasure in making goals. Aguero has such a great desire to keep scoring and making them, but that doesn't tell the story about City's greatest goal scorer. Aguero glides over the turf at great speed, with or without a ball glued to his foot. His touch, skill, intelligence, great goal scoring ability, allied to his desire make him the great player he is – and an ideal partner for Silva. Behind them, the team worked exceedingly hard with Fernando, Fernandinho and Lampard highly charged in central midfield.
City cut through a poor QPR side like a knife through butter, playing great football that is worthy of credit. Aguero opened the scoring with a thrilling run and showed great persistence as the ball broke back to him as he charged through the visitors' defence. QPR tried to hit back but Austin was offside before heading Barton's curling cross into the net, but City were dominant. Kolarov added to the score with a superb curling free kick after that man Aguero was fouled. It could have been more had it not been for Green saving Aguero's close range finish on the run. Fer hit the bar for QPR and Hart grabbed Zamora's tame header from the rebound but it was rare respite for the beleaguered visitors.
It cannot be easy knowing that you are already relegated with a second half to face against City's attack, but that didn't give QPR's players an excuse to give up. Some QPR players melted, others like Phillips, Barton, Dunne, Hill and Green fought on, but they couldn't find a way through a professional, determined City back line. City were ruthless in attack and punished QPR errors: Aguero scored his second with a cool finish after Yun failed to cut out another perceptive Silva through ball. Rob Green was having a fine game; denying Silva with a superb save after clever work from Lampard; and  Kolarov who struck another fierce free kick. Silva was barged over in the box, and Aguero converted the penalty which completed his hat trick and took his League tally this season to 25, which is 5 more than Harry Kane and 6 more than Diego Costa, who both illogically were selected ahead of him for the Premier League team of the season.
Aguero didn't just score goals, he made them too. Milner, who wasn't having one of his better games, converted a tap in from Aguero's cross from Bony's flick. Still, the City chances came in the most unequal of contests: Bony being denied by Green at the foot of his right hand post after a superb Aguero cross field ball and a slide rule pass from Silva, but it was only a matter of time before City made it six. Silva completed the scoring in the 86th minute with his right foot after a clever back heel by substitute Bony played him in.
There was a chance of a run out for a substitute called Yaya Toure and North Stand/Colin Bell corner sang Happy Birthday to him as he warmed up and most of the ground joined in when he entered the fray. It was a day of returning heroes: Shaun Wright-Phillips received a standing ovation and a few "Shaunny Wright , Wright, Wright", as he came on as sub, and Richard Dunne also got his deserved "He's here, he's there…" chant. That's the heroes taken care of, and even the booing by a small minority for comedy villain Joey Barton lacked spite.
Not that City relaxed and sub Wilfried Bony struck a post after a thrilling move. It was a shame that he didn't score because he made a positive contribution, which was clearly recognised by Silva who appreciated his flick for the Spaniard's goal, and Aguero who tried to fashion a chance for City's new striker.
This was an excellent afternoon's work by City, and the score would have been greater had it not been for Robert Green. One can't help wondering why we didn't play with such desire for the whole season. This team with a hard-working 4-5-1 formation would probably have fared better. Whatever happens this summer, these last few games have demonstrated that there is life after Yaya. The professionalism and dedication shown by the players was impeccable. Another plus was that it was another game for Fernando and Mangala to continue their acclimatisation into the Premier League.
We've experienced relegation a few times at City so it is hard not to feel empathy with the amiable QPR fans and of course our ex-City players there. An uncertain future with heavy £50m Football League penalties for so-called "Financial Fair Play" breaches await them.
This game was about City, though, and it was one of those days when you think how lucky we are to be able watch David Silva and Sergio Aguero regularly. They take the breath away.
Goals: Aguero 3, 49, 64 (pen), Kolarov 31, Milner 69, Silva 86
Ratings:
Hart: Had little to do but handled well: 7
Zabaleta: Efficient: 7
Demichelis: Steady enough on a relatively unchallenging day: 7
Mangala: Growing confidence, strong, athletic and full of controlled aggression: 8
Kolarov: Scored a great free kick and looked the part going forward particularly. His defending has improved but he still found that the tricky, quick Phillips had the measure of him a few times: 7
Milner: His delivery was uncharacteristically poor in this game, but his endeavour means he commands respect: 6
Fernandinho: Good hard work and sharp tackling helped ensure that midfield was City's: 7
Fernando: Really good aggression, covering and tackling. Good use of the ball. One shot that lacked accuracy that served as a reminder of why he is a more defensive midfielder, but it was good that he had a go! 8
Lampard: Excellent professionalism and hard work lead to deserved ovations: 7
Silva: His silky skills, intelligence, and appreciation of angles for his passes, allied to an excellent attitude make him the great player that he is, and a joy to watch: 9
Aguero: His desire and work rate allied to his natural talents make him a great player, but he is a superb team player, seeking to create opportunities for others. He is clearly the best striker in the country with 25 goals in the Premier League and 31 in total for the season. Indeed, there hasn't been a greater striker in this history of this club. 10
Subs:
Bony (for Lampard 62): Combined well with his team mates, and fitted in well with the style of play, which is very encouraging. With a strong midfield three behind them, he, Aguero and Silva could form a formidable attack next season. Deserved a goal and went close when he hit the post: 7
Yaya (for Fernandinho 73): One shot failed to test Green. Happy birthday Yaya! 6
Navas (for Milner 81): n/a
Best oppo: Green: Kept the City score to single figures with four good saves: 7
Refwatch: Mike Dean: Uncontroversial, hardly noticeable, which is how it should be: 8
Phil Banerjee