MATCH VIEW: CHELSEA 1 MANCHESTER CITY 1
|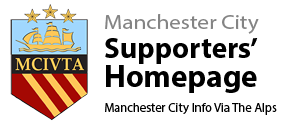 CHELSEA 1 MANCHESTER CITY 1   (HT 1-1)
So honours even at Stamford Bridge. Despite the five point gap, a draw looked like a good result before Kick Off, but it's disappointing that we didn't win because City were clearly the better side in this game.
City had the better of a tight, cagey game before Chelsea took the lead. Navas stung Courtois's gloves with a rising shot and Fernandinho should have done better early with his cross-shot and David Silva was left frustrated at the far post. Great tenacity from Milner paved the way for Aguero to work space for himself and he forced a good save with his angled drive from ten yards.
Kompany miscontrolled a lofted pass and Remy took advantage to square to Oscar who forced a regulation save from Hart.
Then a rare misjudgment of a long ball by the veteran Terry presented Sergio Aguero with a great chance in the inside left position, but he dragged it wide of the left hand post. It was a chance that he would have buried before his injury.
City dominated possession despite the fact that David Silva was man-marked in his number 10 position, just behind Aguero. Every time he tried to turn with the ball, either Matic, or to a lesser extent Ramires, was there stopping him. That City did dominate was down to a good team performance, with the industry of Fernandinho and Milner outstanding in midfield. Despite having a starting position on the left, Milner was very influential in this game, and was City's best performer on the night.
Chelsea's goal was a result of Wilian shoulder charging Clichy off the ball, a great cross field pass by Ivanovic, a sublime touch across goal by Hazard and a crisp finish by Remy. Kompany might have been able to cut out the cross before it got to the Chelsea striker but he may have feared scoring an own goal and he seemed to pull out of it.
It seemed like we had conceded at a terrible time, but City were quickly level due to some excellent pressing and sharp, one-touch passing. Silva lost Ramires, prompted Sagna to feed Navas who crossed from the right Courtois flapped and Aguero gathered the ball and fired across goal and Silva steered in the equaliser. It was a crucial touch by Merlin as Aguero's shot was going wide and indeed, a sharp poacher's finish: his 7th goal of the season.
It looked like Courtois made a bad error in not at least punching the ball away, but James Milner can take some credit for running across and jumping in front of him to create a distraction and possibly block his view.
Chelsea weakly complained that the ball was incorrectly ruled out some way further back in the play, but can hardly complain as they had possession of the ball after that and Matic, their best player on the evening, gave it away cheaply.
Silva managed to find a little more space in the second half, despite getting kicked through the back of the legs painfully particularly by Matic, as City pinned Chelsea back in their own half for long periods. Referee Clattenburg didn't book him yet he cautioned Fernando for a far less City's play was far more cohesive and fluid than it has been in recent weeks with Silva, Fernandinho, Silva and Aguero in particular combining to free Navas down the right. The Spanish winger's service was better than in previous weeks and he went more for aerial crosses. City were on top, but still chances were rare. Courtois was worked by Fernandinho's miscued header from Navas's cross after another clever Silva pass, but Joe Hart had nothing to do other than the odd clearance.
Great tenacity from Milner created two chances for us: firstly he chased Ramires as the Chelsea midfielder tried to run out of defence, and cleanly won the ball to feed Fernandinho who didn't really test Courtois with his low long range shot; then Milner showed great tenacity to battle on the edge of Chelsea's box to regain position and take Silva's delightful pass and feed a delicious ball across the box, which just needed steering in for a winner. Sadly there was no one there, with sub Dzeko at least ten yards away.
Milner ended up in central midfield as Fernando was subbed, and Silva moved out on the left, with Lampard coming on to mainly applause, but a minority of boos. Whilst it must be galling for Chelsea fans watching Lampard playing for another Premier League rival (painful I know, but imagine Sergio Aguero playing for Chelsea – not nice), how can any fan give a legend stick when he has done so much for them and been instrumental in winning every honour in club football?
Chelsea's back ten dropped deeper and deeper, and Mourinho was so concerned that he ended up sending on an extra central defender in Cahill for Remy.
It seemed strange that Pellegrini took Silva off with us trying to win the game, and there wasn't much time for Stevan Jovetic to make an impression. Equally strange was why Navas was taking short corners deep into stoppage time when we needed to get the ball into the box.
So the draw means the five point gap remains. It was an opportunity missed given City's dominance of this game, but it has to be remembered that Chelsea are experts at soaking up pressure over many years, and not breaching their defence in the second half is no disgrace. After all, they won a European Champions Cup against Bayern Munich on the Bavarian's home ground with an admirable backs-to-the-wall performance.
Both teams lacked key players: Chelsea missed Fabregas and Costa; City continued to be without Yaya and Nasri, so there can be no excuses. Chelsea may have felt tired and leggy after playing 120 minutes against Liverpool in midweek, but that doesn't wash. They have had 72 hours to recuperate and if young men cannot play Wednesday then Saturday, they are in the wrong job. In any case Chelsea have the wealth to build a stellar squad to cope. The great Brian Clough would have said, "You're paid to play football, get on with the game."
Chelsea's team are not the invincibles that several mug journalists were touting them to be: far from it. Even with Fabregas and Costa, they are not as good as the Cech/Terry/Lampard/Drogba side of ten years ago. However they are a good side, and like most Mourinho sides they are very good at getting results, even when they are not playing well. They will, though, drop points before the end of the season. City have to drop six less than Chelsea, and the title stays in Manchester.
No way should City feel any inferiority to Chelsea, and can take heart from a very creditable performance in West London. One advantage that City have over them is that for all Chelsea's attacking talent and defensive organisation, Mourinho's tendency to revert to negative, defensive tactics at times can breed negative thoughts, whereas Pellegrini's teams go out to attack. Chelsea and indeed Mourinho are already a rattled, and as leaders, the pressure is on them. We have chased down leads before, and as our chant goes, we'll fight to the end.
Ratings:
Hart: Had no saves to make, and one dodgy kick out apart, his distribution was good enough: 6
Sagna: Very solid, read the game well and had a good game up against the dangerous Hazard, though he should have got closer to the Belgian winger in the build up to the Chelsea goal: 7
Kompany: A slight improvement on his previous game but some way from his best. His error allowed Remy to advance down the left in a dangerous attack, and he should have taken the risk in an attempt to prevent Hazard's cross set up Chelsea's goal: 6
Demichelis: One loose pass was not punished and Demichelis could and even if he could not have intercepted before Remy, he should have been closer for Chelsea's goal. Otherwise, read the game well: 6
Clichy: A good, solid show from our first choice left back. In this form he should play every game until the end of the season: 7
Navas: His delivery improved and was a danger in this game, and a livewire in the second half particularly. He could have done more to help Sagna in the build up to the Chelsea goal: 7
Fernando: Aggressive, industrious, tackled and covered well, but his touch was a little heavy at times: 6
Fernandinho: All-action show from the Brazilian whose aggression was important in City dominating midfield. Should have done better with Navas's cross in the second half when he miscued and headed the ball into the ground but Courtois still had to tip over: 8
Milner: His aggression, persistence, tenacity and quality passing were a big factor in City being dominant in this game, and he played a crucial part in our goal without touching the ball. Deserved an assist for his hard work and craft: 9 **Man of the Match**
Silva: Shackled by Matic and Ramires for long periods in the first half but eventually found space to conduct proceedings and sharply finish off Aguero's shot across goal: a real poacher's finish. His 7th goal in the League equalled his highest tally, and double figures is looking very possible. Instigated some lovely moves in the second half and worked well to release Navas whenever possible: 8
Aguero: Getting fitter and sharper but some way to go yet. He would have scored the chance in the first half nine times out of ten at his best. He worked as hard ever and it is only a matter of time before he is scoring again: 7
Sub:
Lampard (for Fernando 77): n/a
Jovetic (for Silva 90): n/a
Dzeko (for Aguero 84): Not match sharp, and it showed when he ws ten yards away from Milner's inviting cross: n/a
Best Oppo: Zouma: Solid young central defender who worked hard to keep us out: 8
Refwatch: Clattenburg: This was not that difficult a game to referee, yet he still failed to deliver even-handedness. He was quick to book Fernando yet Matic painfully kicked Silva through the back of the legs and escaped a caution. Not good enough: 5
Phil Banerjee
phil.banerjee@orange.net