Malcolm Alexander Allison
|
Where are they now?
BIO
Born: Sep 5, 1927
Death: Oct 14, 2010
Birthplace: Dartford
Nationality: England, 0 games / 0 goals
Height: 180 cm
Position: Centre Half
Nickname: Big Mal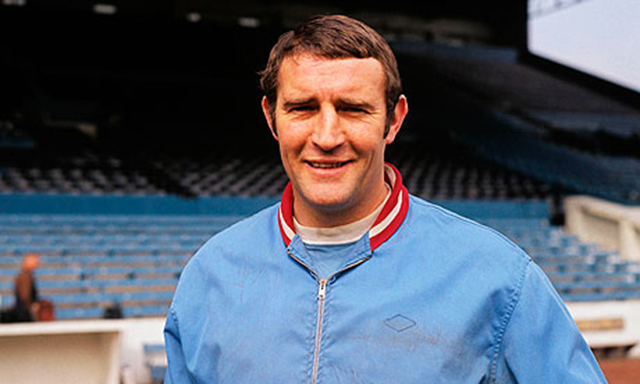 Allison was an English football player and manager and one of English football's most flamboyant and intriguing characters because of his panache, fedora and cigar, controversies off the pitch and outspoken nature. His managerial potential become apparent while in his youth at West Ham United, where he became a reliable defender and acted as a mentor to the younger players including future England World Cup winning captain Bobby Moore. His playing career was cut short in 1958 when he had to have a lung removed because of tuberculosis. Still as a coach he was renowned as a runner with great stamina and often out-performed the younger players during running sessions.
As a coach, he is remembered for assisting manager Joe Mercer in the transformation of his beloved Manchester City. Mercer figured he needed a younger, fitter, assistant to run training sessions, and chose the flamboyant and dynamic Allison, who had recently departed Plymouth Argyle after a spell as manager. Allison had other job offers from Stanley Matthews at Port Vale and Raich Carter at Middlesbrough but chose Joe Mercers Manchester City after admitting he had always had a love for City after listening to them on the radio during the 1933 FA Cup Final.
During the 1960s and early 1970s Allison played an integral part in City winning seven trophies in seven years. Mike Summerbee, who played under Allison at City and is now a club ambassador, said: "Malcolm changed football by making us train like athletes, in that respect he was ahead of his time and he was a great tactician as well. He was also one of the lads – in effect he was the 12th player from the sidelines but he knew how to crack the whip and we respected him. "He was a great psychologist; he knew how to handle me and how to get more out of me. He did the same for Colin Bell, Francis Lee, Neil Young and all of that great side."
The 1971-72 season saw the break-up of the Mercer-Allison management team, with Mercer leaving for Coventry City as his relationship with Allison deteriorated. Chairman Peter Swales later said, "the board had to choose between Malcolm Allison and Joe Mercer – and we chose Malcolm Allison". Sympathy for Mercer was stronger than for Allison who was now seen as ruthless in getting to Mercer's manager role he craved, as Allison later said on Mercer's untainted departure, "Joe had controlled his personal position with great skill. He had come out smelling roses."
City were invited to take part in the 1972 FA Charity Shield in which they beat Aston Villa 1-0. Allisons only trophy while in charge, and he never managed to follow-up on the great work that he and Mercer had laid down in previous years. He left the club after a poor start to the 1972-73 season that almost saw the club relegated.
If Chairman Swales regretted showing Mercer the door in favour of Allison he surly must have forgotten that when he appointed the notorious Allison a second time on July 16th 1979, this time replacing his long time friend Tony Book as Manager. Once more Allison failed as Manager of Manchester City and almost drove the cash-strapped club into division 2. Allison squandered large sums of money on unsuccessful signings like the record breaking Steve Daley, whilst selling stars such as Asa Hartford, Gary Owen and Peter Barnes almost for nothing. He was sacked on Oct. 8th 1980 and replaced by John Bond. The team only managed to win 25% of their games, the lowest win percentage of any manager at the club up until then.
Allison even offered his managerial services to the club for a third time in 1989 but lost out to Howard Kendall. He also managed several other English clubs, including two spells with Crystal Palace, two spells with Plymouth Argyle, and internationally in Turkey, Portugal and even the Kuwait national team. With Sporting Lisbon he won the league championship and the Portuguese Cup in 1981–1982 and Allison is fondly remembered by Sporting fans because of that.
All in all he managed 15 clubs between 1963 and 1993 and was often surrounded by controversies. His outspoken nature and womanising were of great interest to tabloid newspapers and he received a Football Association disrepute charge after a News of the World photograph appeared showing him in the Crystal Palace players' bath with porn star Fiona Richmond whom he had invited to a training session.
In 2001 it was revealed by his son that Allison was suffering from alcoholism and in 2009 it was reported that Allison was suffering from dementia. He died in a nursing home on 14 October 2010 at the age of 83. His funeral took place on October 27th with the cortege passing the City of Manchester Stadium on its way to a service at the Southern Cemetery. Around 300 people gathered to pay their respects and a sky-blue, Manchester City scarf was draped over his coffin next to an ice bucket containing a bottle of Moet et Chandon champagne.