Where are they now?
BIO
Born: Sep 4, 1934
Birthplace: Bath
Nationality: England, 0 games / 0 goals
Height: 180 cm
Position: Right Back
Nickname: Skip
Tony Book was born in the Somerset spa town Bath in a family that was to count 7 boys. His father was an army man and at the age of 4, Tony moved with to India with his family and spent 7 years on foreign soil. After the war they moved back to England and West Twerton. After progressing well at school level he made it into the Bath City youth team and the Western league side Peasdown Miners as an inside forward. In October 1952 Book joined the Royal Army Medical Corps. While representing his army football side he was placed at Full-back and that was the position he would have for the rest of his career.
His regiment's sergeant major Tanussi even arranged a trial with Chelsea, but after making a few trial-matches with the Chelsea A-team they decided to not follow up on their interest. So in January 1956 he signed for his home-town club; Bath City. He was on a £4 per week, laying bricks in the morning, training in the evenings, and seeing his girlfriend (later to become his wife) Sylvia every Wednesday. Bath City was in the Southern League and enjoyed a few FA Cup stints that raised the air brows of the media. In January 1964 they reached the 3rd round and managed a draw at home to Bolton Wanderers. Bath took the lead but Bolton managed to equalize through Francis Lee….
By that time Bath City had got a new Manager, a larger than life character called Malcolm Allison. After Allison had led Bath to victory in the Southern League he invited his captain Book to join him in a summer training camp in Toronto, Canada during the summer 1964. For Book this was the ultimate experience, getting the chance to play against established players from all over the world. He now was a full time professional for the first time in his life and with Toronto City he won the Eastern Canada Professional Soccer League. Book was also voted the best fullback in Canada that season.
Allison left for Plymouth Argyle that summer, but soon made an approach to sign Book for his new club. The only problem was that the Plymouth board probably wouldn't accept the signing of a 30 year old defender with no League experience. So Allison told Book to alter the date of his birth certificate. He managed to twist the paper in such a way that it read 1936 instead of 1934, and so his career in 2nd Division and £30 per week, plus bonuses, were secured.
Allison moved to become First team Coach under Joe Mercer at Manchester City and it was a strike of genius from City Coach Malcolm Allison that brought Book to Maine Road in 1966. The player had never competed at top level, and was about to pass his 32nd birthday. The media was not convinced that this was a signing fit for a team that was supposed to challenge for the title. But Allison knew his man, Book was a true professional, and while he had spent most of his playing days at lower level, it had been under the influence of Allison, and so the Coach brought his most reliable player with him to Maine Road. Even Mercer was only convinced after Allison questioned the Manager what his age had been when he moved from Everton to Arsenal during his playing days. "31," had been the Managers answer. A simple question had sealed the fate of the player, and the club, for years to come.
Book's previous knowledge to Malcolm Allison and Mike Summerbee (who he had played against in the Southern League) made him settle quickly into the team and when Johnny Crossan was transferred to Middlesborough in the summer of 1967 Book was made captain for what was to become City's most successful era. From that day he also earned his nickname "Skip", which stuck to him for the rest of his career at City.
In his first year Book had won the Manchester City Player of the year award. Then in 1969 he received the Football Writer Association (FWA) Player of the year award, which he shared with Dave Mackay. Book himself was a bit puzzled by the nomination, as he had been sidelined with injury for most of the season.Book only missed one league game during his first two seasons and he led City to the League Championship, beating United to the door with a 4-3 victory away to Newcastle on May 11th 1968. After the Championship winning season Books career looked to be over following an Achilles tendon injury late in 1968. He spent 6 months on the treatment table and finally after trying radiotherapy he became fit enough to get back into in time for the FA Cup success in 1969. Then; in the space of 53 days, City won the League Cup and the European Cup Winners Cup in 1970. This was the first time an English team won both a European Cup and a domestic trophy in the same season, and it was the last time a team consisting of only English players won a European Cup.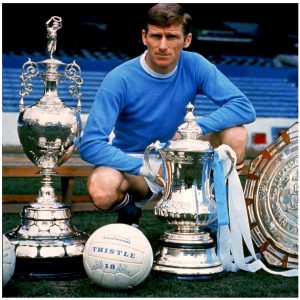 One remarkable thing about Book was that he was probably the only player that could keep George Best silent while he was at the top of his game. Many defenders were lured by Best to make an early challenge, mostly because they were out-psyched by the great name. Book was quick for his age, and he always let the Northern Ireland International make the first move. This often ended in Best tripping back and forth over the ball, and when he finally made his move, Book was all over him before he could get close to goal. Book was known for his mind-games too. Often he would run side-by-side with Best calling for him to pass the ball. Best later acknowledged Book to be one of the best full-backs in the game.
During the turmoil that ended in Mercer leaving for Aston Villa, and Allison taking over as Manager, Book as well as the rest of the players were shocked by the treatment of the great Manager. They believed that Mercer had provided the necessary calmness that the club needed, while Allison was the general in the field so to speak. When Allison quit City and went to Crystal Palace, Book was put in charge of the team temporarily, and for a while acted both as player and Manager. When Ron Saunders was brought into the club, he asked Book to become his assistant, but also demanded that he retired from playing. Book was happy to continue in management, but later regretted his decision not to have stayed in the team, at least for the rest of the season. As it were City reached the League Cup final after playing 10 games (the double of a normal cup run), but lost to Wolves in an uninspired performance that also meant the end of Saunders career as Manager.
Following heavy pressure from the established City players (with Mike Doyle at the front), the Chairman Peter Swales decided to let Book take over as Manager on April 12th 1974. As it was he would lead City to another Cup trophy, the last of the Century and it took the club 35 years to add another trophy to the cabinet.
He remained manager until 1979, when he was replaced by his former mentor Malcolm Allison. He then became a loyal stalwart to the club in several other roles until 1997, including as caretaker manager again in 1993. He joined Huddersfield Town in 1997 as Chief Scout under Brian Horton.
Now retired, Book still holds positions as Honorary President of Manchester City, and Life President of the Manchester City Official Supporters Club. He was inducted into Manchester City's Hall of Fame in January 2004. He is a regular at City-games and often represents the club on formal occasions. Below he is interviewed before THAT QPR game in 2012.
Words are not enough to describe the influence Tony Book has had on Manchester City, as a Player, Captain, Coach and Manager. For more than 30 years Book was associated with the club, and even though he joined the club in his 32nd year he is a true blue better than most.
For more information about Tony Book and his years with City, please check out the Book: "Maine Man – The Tony Book story" by Tony Book & David Clayton.
PLAYING CAREER
| Season | Club | LEA | LEG | FCA | FCG | LCA | LCG | ECA | ECG | TOTA | TOTG |
| --- | --- | --- | --- | --- | --- | --- | --- | --- | --- | --- | --- |
| Total | | 731 | 19 | 40 | 0 | 12 | 1 | 9 | 0 | 792 | 20 |
| 1956-64 | Bath City | 406 | 12 | - | - | - | - | 0 | 0 | 406 | 12 |
| 1964 | Toronto City | - | - | 0 | 0 | 0 | 0 | 0 | 0 | - | - |
| 1964-66 | Plymouth Argyle | 81 | 3 | 12 | 0 | 0 | 0 | 0 | 0 | 93 | 3 |
| 1966-67 | Manchester City | 41 | 0 | 6 | 0 | 2 | 0 | 0 | 0 | 49 | 0 |
| 1967-68 | Manchester City | 42 | 1 | 4 | 0 | 4 | 1 | 0 | 0 | 50 | 2 |
| 1968-69 | Manchester City | 15 | 0 | 6 | 0 | 0 | 0 | 0 | 0 | 21 | 0 |
| 1969-70 | Manchester City | 38 | 0 | 2 | 0 | 1 | 0 | 9 | 0 | 50 | 0 |
| 1970-71 | Manchester City | 34 | 2 | 3 | 0 | 1 | 0 | 0 | 0 | 38 | 2 |
| 1971-72 | Manchester City | 40 | 1 | 2 | 0 | 2 | 0 | 0 | 0 | 44 | 1 |
| 1972-73 | Manchester City | 30 | 0 | 5 | 0 | 2 | 0 | 0 | 0 | 37 | 0 |
| 1973-74 | Manchester City | 4 | 0 | 0 | 0 | 0 | 0 | 0 | 0 | 4 | 0 |