Hull – Manchester City 2-4 Matchview
|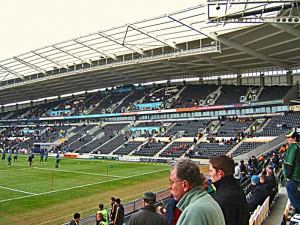 I arrived in plenty of time for this one with the early kick-off Liverpool v Everton game on in The Griffin Pub where I usually park. Our game wasn't televised in the U.K being a 3pm kick off but you may have seen a summary on the TV in BBC's Match of the Day which has to concentrate on highlights. There is an inevitable distortion about the way the game is portrayed if there are six goals with quite a few attempts and incidents.
In the first twenty or so minutes there was the occasional foray into City's half by Hull but mostly we kept the ball to ourselves and went two up quite quickly through superb strikes from Aguero and Dzeko. Caballero in City's goal could have finished the first few chapters of War and Peace such was the lack of any challenge to City's dominance.
The change came when following a rare excursion and threat to City's goal Mangala headed into his own goal. I've seen various own goals in my time but this was a belter, bombed into the net in old fashion centre forward style. Andy Carrol would have been proud. He did say when we signed him that he usually scored a few goals each season but now I remember, he didn't specify which side that was for.
Hull now started to play and City seemed to lose confidence. Passes went astray and there were too many last ditch tackles and players caught in possession. One of last ditch efforts those was the foul in the penalty area which led to Mangala's yellow card and the penalty from which Hull City equalised. "Deserve" has no place in football but if it did there is no way that Hull deserved to be level with City – we had looked capable of five or six easily but that isn't how they will see it of course.
The second half saw both sides believing rightly that they could win the game so there was a better balance of play. Eventually Silva's pass to Dzeko led to a moderately paced slide-rule goal. Since I was roughly behind it could enjoy watching the ball trundling happily out of the goal keeper's reach into the corner of the net. I thought then we would probably win it 3-2 but like many City fans I was puzzled by changes Pellegrini made. In succession he took off Fernandinho, Aguero and Silva replacing them with Navas, Demichelis and Lampard leaving us with far less pace and creative guile up front. Fernandinho wasn't having the best of games being dispossessed on too many occasions but at least he was up with play unlike the glacially slow Touré who, to be fair had hit the post, with one of his three attempts on goal.
The final goal was one we could well have predicted because Zabaleta had been getting behind their defence on a few occasions. On this occasion he had time to reach the line, look up and ask Super Frankie Lampard whether he would like the pass boiled, fried or poached. Frankie chose poached which is his favourite and thirty six year old Lampard became our equal top scorer this season so far which is simultaneously astounding and ridiculous.
City saw the game out with a study in keep-ball and Hull look shattered. This was overall a better display by City as we move slowly towards the form which brought us the league title last season. Mangala's display was a one-off – I think he's still good and quick with excellent positioning but like any player he can have an off day. Another player worth mentioning for his positive display was Milner. As usual he ran for 90 minutes made openings for others,  got into space yet rarely received the obvious pass and, had his shooting been better, would have easily grabbed a hat trick. Even if Nasri was fit and on form, I still wouldn't pick him over Milner at present.
What about the referee Anthony Taylor? Well the chap behind me declaimed chapter and verse concerning his well-established prejudice against City even before the match started. There was no doubt this ref had it in for our beloved club and this game would surely be no exception. Every time a doubtful decision was made (doubtful to Manchester City fans but justice well served to Hull City supporters) he pointed out the failure to all around us. At the end there was no doubt that this man was unfit to take charge of a Sunday League junior side. In reality the referee was perfectly fair and normal – making mistakes according to some fans and certainly not showing the predicted large numbers of yellow cards. No, the prejudice lies with the devout but one-eyed fan who sees only justified, well-timed tackles made by our players yet dirty, cynical fouls made by theirs. If you want to know how good our referees are then watch a European game where difficult decisions are ducked with a casual wave-play-on almost every time.

Loading ...
Finally two moans from me: am I the only one who regularly finds himself in a seat (actually City fans stand throughout away matches) with some brainless loon directly in front who must demonstrate his love for City with outstretched arms blocking my view every five minutes? Politely asking him to desist is met with a grumble that this is a football match and that's what you do. And there's me thinking you go to watch the game.
At the end of the match the jobsworths let us out on time but as is so often with away games we were directed away from the rest of the crowd leaving us with long walks to where so many of us had parked our cars. That's this year – they didn't do it last year and there wasn't any trouble then.
In conclusion this was a good game for neutrals, an excellent example of how a game can swing one way or the other and yet another indication that this is not Old City: this City side does not capitulate under pressure or bad luck.
Roll on Roma and Villa.