Where are they now?
BIO
Born: Nov 29, 1938
Birthplace: Londonderry (Northern Ireland)
Nationality: Northern Ireland, 24 games / 10 goals
Height: 173 cm
Position: Inside Forward
Nickname: Jobby or Cross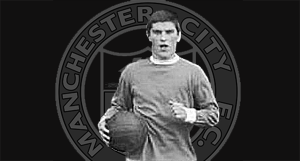 John Andrew Crossan, also known as Johnny Crossan, Jobby, or Cross was Manchester City captain under Joe Mercer and led the club successfully back to the 1st Division in 1966, before leaving the club after the 1967-season after having the season hampered by injuries following a car crash. He played 115 games and scored 18 goals for the blues.
Johnny was born in Northern Ireland city of Derry just before WWII. He began his career playing for hometown Derry City, where he played as an inside forward. During the 1958-season Ireland was crawling with scouts from the English league and Crossan's talent was soon spotted by several leading English club and he was considered a huge talent even before he turned professional. Offers came from Sheffield United, Arsenal, and Nottingham Forest.
When Sunderland offered £6,000 for his services Derry City made Crossan a proposition. If he signed a professional contract, they would accept the offer from Sunderland and split the cash between them. This was highly irregular but not an uncommon arrangement at the time. Knowing the illegal nature of the deal Johnny offered Derry £1,000, leaving £5,000 for himself. To say this did not go down well with his hometown club was an understatement. Derry dropped Johnny from the team and sanctioned the deal. After the season, due to amateur regulations, Johnny was allowed to move to fellow Irish club Coleraine, for free.
Derry still was unhappy with their end of the deal and thus reported themselves and Johnny to the the League authorities for illegally offering payment to a player to get Crossan in trouble for accepting the deal. They also claimed that Crossan had been paid, against amateur rules, for each game he had played the previous season. The demanded an investigation if Crossan moved to an English club from Coleraine. When former Manchester City Legend Peter Doherty signed Crossan to play for his team Bristol City the investigation hit it's full potential resulting in Derry being fined and Crossan banned from League football for life. This was the following year reduced to domestic leagues, and Crossan moved to Holland and Sparta Rotterdam. After 4 years playing abroad and fighting for his rights he was allowed back to Britain, and Sunderland finally got their man.
On January 22nd 1965 he was signed by Manchester City for £40,000. Joe Mercer was delighted to find Crossan at the club when he arrived, as he had tried to sign him for Sheffield United back in his Derry days. He subsequently made Crossan captain of the team and his best season as a professional was probably the 1965-66 promotion campaign when he played 40 games, scoring 13 goals.
The following season was hampered by injuries following a car crash near Roker Park. For weeks Crossan tried to disguise a severe knee injury as well as a a grumbling appendix. To the unknowing fans his performances seems to be under par and he was not treated to well before the injuries became apparent. He was sold to Middlesbrough for £32,000 after the season and therefore missed out on the league winning campaign and the golden era under Mercer & Allison.
After his professional career ended Crossan played as an off-licence back at Derry City. He also tried himself as an author, radio sports analyst, entrepreneur running a sports shop in his home town. He was also involved in training local youngsters and for a while acted as scout for Manchester City.
He was capped 24 times for Norther Ireland, and scored 10 goals including a hat-trick against Albania in 1965.
Crossan's legacy
Johnny Crossan's impact is not forgotten by the blues. Especially the 1965-66 campaign is remembered in his glory as he was carried around the Maine Road pitch following the 5-point clear promotion. On a side-note it should be mentioned that the money City received from his departure was used to sign Francis Lee. So his impact lasted even beyond his Maine Road days.
Johnny Crossan was only 173 cm tall, but was renowned as a tough and hard tackling forward. As Captain he looked after his team mates and especially the younger members of the team. Two incidents shows Crossan's mentality at full, and both involves debutants. When 18 year old Mike Doyle made his full debut against Cardiff City in March 1965 he soon found himself being knocked around the pitch by the older opponents trying to make their mark. At one point Mike found himself tackled out of the pitch only to be picked up by Johnny Crossan telling him to relax, as he was going to take care of things. During the following play Crossan played the ball past Mikes offender, but instead of running past him, he ran over him, firmly stamping his studs into the players thigh and leg. After that incident the Cardiff players left Mike alone for the rest of the game.
Another story was told by (later to be MEN journalist) Paul Hince who was about to make his debut against West Bromwich in 1966. Crossan pulled him towards him and told him not to worry. "If you get into a tight spot just look up and I'll be there. Don't bother whether it's an ambulance ball. Just give it to me and I'll take the knocks." And Crossan was true to his word Hince told. "Each time I got into trouble that day I looked up and he was there. I lost count of the number of kicks he took for me. By the end he must have been black and blue from neck to ankle without one word of complaint. He was the guardian angel looking after a nervous youngster on his debut".
Paule Hince scored two goals that day.
| Season | Club | LEA | LEG | FCA | FCG | LCA | LCG | ECA | ECG | TOTA | TOTG |
| --- | --- | --- | --- | --- | --- | --- | --- | --- | --- | --- | --- |
| Total | | 391 | 90 | 14 | 3 | 2 | 1 | 14 | 3 | 421 | 97 |
| 1954-58 | Derry City (NI) | ? | 5 | - | - | - | - | 0 | 0 | ? | 5 |
| 1958 | Coleraine (NI) | ? | ? | - | - | - | - | 0 | 0 | ? | ? |
| 1958-59 | Bristol City | 0 | 0 | 0 | 0 | 0 | 0 | 0 | 0 | 0 | 0 |
| 1959-61 | Sparta Rotterdam (NL) | 20 | 5 | - | - | - | - | 6 | 1 | 26 | 6 |
| 1961-62 | Standard Liege (BEL) | 33 | 6 | - | - | - | - | 8 | 2 | 41 | 8 |
| 1962-65 | Sunderland | 82 | 39 | - | - | - | - | 0 | 0 | 82 | 39 |
| 1964-65 | Manchester City | 16 | 3 | 0 | 0 | 0 | 0 | 0 | 0 | 16 | 3 |
| 1965-66 | Manchester City | 40 | 13 | 8 | 2 | 1 | 1 | 0 | 0 | 49 | 16 |
| 1966-67 | Manchester City | 38 | 8 | 6 | 1 | 1 | 0 | 0 | 0 | 50 | 9 |
| 1967-70 | Middlesbrough | 56 | 7 | | | | | | | 56 | 7 |
| 1970-75 | KSK Tongeren (BEL) | 105 | 4 | - | - | - | - | - | - | 105 | 4 |