Home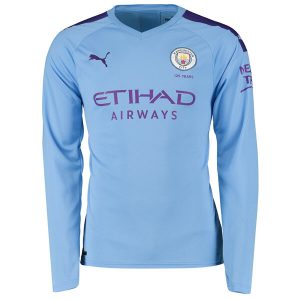 The first use of an all-sky blue for a Manchester City shirt was the season in which Manchester City formed in 1894 changing from Ardwick FC. Ardwick themselves had used blue and white strips between 1887-1894. Before that the club was known as St Marks (West Gorton) and played in a black strip from 1884 to 1887. Some sources suggest that West Gorton originally played in scarlet and black.
Since their adoption of the sky blue shirt and white shorts, City's kit has remained a fairly uniform design, largely resisting any trends towards using vivid striping and keeping embellishments subtle. As most clubs however, the 1990s did see a period of experimentation especially with the introduction of a Lazer blue shirt manufactured by Kappa in 1997 and continued by Le Coq Sportif until 2003. When Reebok took over manufacturing it made for the return of the sky blue and this  tradition has been continued by Umbro and lately by Nike.
Away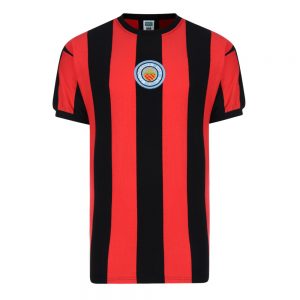 In the late 1960s, Assistant Manager Malcolm Allison introduced a red and black striped away shirt inspired by the successful Italian club AC Milan.
The idea was to psyche out the opponents by making the impression that City would be just as unconquerable as AC Milan.
The idea worked and in the ensuing years City won the 1969 FA Cup Final and 1970 European Cup Winners' Cup in red and black and were recognised as one of the most exciting teams in English football at the time.
Other noteworthy away designs have been all white with or without one red and one black (or blue) diagonal stripes, and several all black or dark blue kits. Yellow has also been used on several occasions, and is "fondly" remembered for the 1999 2nd Div. play off final win against Gillingham.

The use of black can in some ways point back to the roots of West Gorton, but black and yellow in combination is also inspired by the bees in the Manchester Coat of Arms which symbolises industry.
Kit sponsors
Swedish car manufacturer Saab was the first company to put their name on a City shirt, although the deal was made trough  the local Manchester based Saab importer, and not with the Swedish company as such. After two years German electronics giant Philips took over the sponsorship in 1984, before computer and printer manufacturer Brother took over. The partnership continued for 12 years, the longest sponsorship in the Clubs history.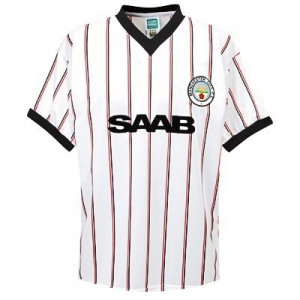 After Brother shorter runs followed with computer gaming company Eidos Interactive (famous for their Lara Croft games), finance company, First Advice, and airliner Thomas Cook.
The club currently has a shirt sponsor agreement with Etihad Airways since 2009. The value of deal was not disclosed, but the sponsorship deal is believed to be one of the largest in world football and is for an initial three years.
Saab (1982-1984)
Philips (1984-1987)
Brother (1987-1999)
Eidos Interactive (1999-2002)
First Advice (2002-2004)
Thomas Cook (2004-2009)
Etihad Airways (2009-)
Kits from 2010-
| Year | Home | Away | Third |
| --- | --- | --- | --- |
| 2010-2011 | | | |
| 2011-2012 | | | |
| 2012-2013 | | | |
| 2013-2014 | | | |
| 2014-2015 | | | |
| 2015-2016 | | | |
| 2016-2017 | | | |
| 2017-2018 | | | |
| 2018-2019 | | | |
| 2019-2020 | | | |