Much has been made in the press of the size of our attendance in the Champions League game against Roma this week. Petty point scoring aside from our neighbours, there are actually valid reasons as to why our attendance for such a big game against Roma was only 37,509 – some 10,000 below our average for Premier League matches. City fans need not reproach themselves for such a low attendance.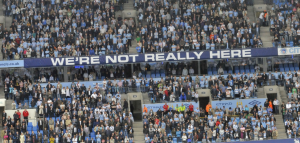 Firstly, it is impossible to ignore the background conditions that exist in the United Kingdom today. These are still tough times for people in the UK. With many people not having had a pay rise and many people out of work still, there is precious little evidence that our economy is in recovery, no matter what David Cameron's government says. There is not a great deal of money sloshing about, especially north of Watford.
Watching football is very expensive nowadays, and walk-up prices for the Champions League match at £30-£40 are prohibitive, especially when the game was televised. Like many fans, I'd much rather be at the match, but the day cannot be far away when I have to pick and choose which Cup games I can afford.  As season tickets and match day prices are too expensive for Premier League matches also, people are picking and choosing. For instance, charging more than £50 for the Liverpool game might have meant that someone could not afford to go to other games.
Our ticket prices are favourable when compared with the other top clubs, but this is the North of England, and it does not have as many potential fans with the expendable income as say in London to splurge on Arsenal.
Football clubs have continually put ticket prices up, including ours. Some of our season ticket prices have gone up by 10%, and inevitably people are feeling the squeeze. How many people have had a pay rise to match?
It is not my view that our owners are looking to fleece us. They are, though, under pressure from UEFA to meet the iniquitous so-called "Financial Fair Play regulations" which, as I have pointed out over the last few years, are inevitably are a major influence in clubs putting ticket prices up. We, the fans, are paying for Platini serving the interests of the G14 Establishment clubs.
Not only is price a factor. There is a feeling amongst some Blues that the Premier League is more exciting, and therefore people prioritise their games. We do after all have a better chance of winning our domestic competition. The fact that most (!!) League games are held on a weekend make them more convenient.
The feeling that UEFA are skewing the Champions League against City might seem like a conspiracy theory, but given those corrupt so-called "Financial Fair Play regulations" and the way they have drawn a line round Manchester City and the fact that we have been "punished" when Sheikh Mansour has only put money into football and the Glazers have taken out, has put some fans off. UEFA's corruption and warped values are no surprise, but don't exactly make you want to hum that pretentious Champions League music. Some have cited this corruption and our punishment as a reason for not joining the Cup scheme for Europe's top competition. The fact that City have had a suspiciously difficult group for the third year in four isn't exactly attractive either, and doesn't do much to dispel the notion that the draw was fixed.
Call me old fashioned, but given the choice, I'd much rather win the League than the Champions League. Don't get me wrong, I'd love to win the Champions League, but winning our League is more importance for me. As we have happily experienced, there is nothing like domestic dominance over our rivals, particularly our local rivals! Who would you rather beat? United or Roma? Liverpool or Bayern? OK, ideally the answer is all of them, but winning our League, beating our rivals over a long season is so satisfying! Beating United to the League in 2012 was an unforgettable pleasure wasn't it? Seeing City race past those premature celebrating Scousers like thoroughbreds was very sweet last season too. If we can do well in the Champions League, great, but for now at least, I want to keep winning our league, and I am certainly not alone in feeling that way.
Then there is the social element. UEFA's ridiculous ban on alcohol in and around the ground on European nights takes away from the occasion. I'm not a big drinker, but there are times when I'd like to have a pint with a mate at the match. UEFA say we can't, even though there hasn't been a significant problem with alcohol at City matches for many years. We don't want administrators telling us we cannot drink this or that. UEFA, with their officious meddling, take away from enjoyment…again.
Far be it from me to say that football is about enjoyment – I've watched too many disappointing City teams over the last 34 years – but when the simple enjoyment of a beer with a friend is taken away, and the price of match tickets is too expensive, it isn't going to encourage people to leave their fireside.
The authorities, ie. UEFA, have got so out of touch from the fans that their competition has become too expensive, less attractive, predictable, corrupt and, some might say, fixed (well, the amount a club can spend and the draw at least).
Hardly a reason to entice people to pay with their hard-earned is it?
So, City fans shouldn't ever reproach themselves for not making a game. We've done the hard yards. It's not our fault if the game is too expensive or has been made unappetising. And, as far as our neighbours are concerned, it's never been about the quantity of our support in relation to them. We'll always have the edge on quality.