Manchester City – AS Roma 1-1 Match Report
|
Venue: Etihad, City of Manchester Stadium
Competition: Champions League Group Stage
Date: 30/09/2014 16:00 BST
Photos: Richard Tucker
Frustration was the name of the game as City were held to a 1-1 draw by AS Roma at the Etihad. Despite making a dream start and taking a 3rd minute lead with a Sergio Aguero penalty, City allowed Roma back into the game, and could never quite find the penetration to win the matchagainst a well-organised defence .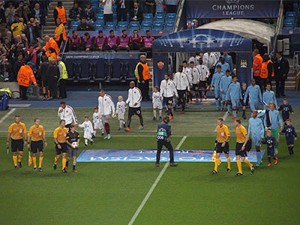 City's 4-4-2 formation saw us outnumbered in midfield against Roma's five and they quickly fought back after City took the lead. Maicon hit the bar soon after, but the warning was not heeded and Totti benefited from Joe Hart's slip on the wet turf to win the race to a clever diagonal pass, and lift in the equaliser in the 24th minute. City could have had two penalties in the first half: one for a hand ball, and the other just before Roma's goal when Aguero was nudged over in the box, but the referee was unmoved.
City were struggling tactically in central midfield. Roma's 3-5-2 system with wing backs Maicon and Ashley Cole pushed on, afforded them an advantage of three in central midfield to our two. With less options and less space, City passed the ball too slowly, and therefore we did not play at a temp that would allow us to hurt Roma's well drilled defence. Nevertheless, we fashioned two good moves: the first resulted in an Edin Dzeko shot hitting Sergio Aguero, and the second saw Vincent Kompany fire 18 inches over after David Silva squared in the 39th minute.
We had to be vigilant to Roma's threat as they were quick on the break with the impressive Pjanjic and Totti intelligent with their passing, Joe Hart was forced to make a smart save at his near post after Gervinho skinned Demichelis in the 44th minute.
Whilst bringing on the more muscular talents of Milner at half time for the struggling Navas was a positive, the problem was still not fixed, and Roma still got at City in the minutes following the break. Both Totti and Pjanjic fired just wide in the 50th and 56th minutes. In between this, the City keeper also had to stop a close range Pjanjic effort with the City defence at full stretch.
Only when Pellegrini switched to a five man midfield before the hour mark did City dominate and control this game. With Substitute Lampard playing just ahead of Fernandinho and Yaya Toure in the centre, City dominated the rest of the game. Lampard had a shot well saved at the right hand post after Silva played him in. Silva's superb diagonal ball just needed a touch past the Roma keeper but the returning sub Jovetic couldn't quite make it. One couldn't help thinking that he would have had it not been for a few weeks out blunting his threat. Silva and Lampard couldn't quite find the accuracy as City upped the ante. Roma continued to frustrate us, with three of their players going down "Injured" for lengthy periods of "treatment". Chief architect Silva also went close after Jovetic and Zabaleta played him in during stoppage time. Jovetic's shooting was rather wayward as the game drew to its disappointing conclusion.
Roma are decent side but no better than, say, Liverpool. They should have been beaten. This was a game we needed to win to give us an advantage over Roma, and this draw represents an opportunity lost. Qualification from this difficult group will have to be done the hard way.
All is not lost, though. We need to make sure we take maximum points against CSKA plus in our remaining games, and depending on Roma's results with Bayern, make sure we get the right result in Rome – it might have to be a win.
To progress, we must learn the lessons of the past, and indeed games like this one. Overall, we must learn that five in midfield is the way forward in midfield to enable us to enjoy more possession and pass the ball quicker: something we didn't do with 4-4-2. Surely James Milner is worthy of a starting role in this splendid City side, which is generally better for having him in it. He makes things happen in a creative sense and works well particularly well with David Silva, amongst others. Whilst he is a reliable all round player, his attacking qualities skills are wrongly underrated. We need to make the best of those talents.
The question is: can we learn?
Next page: Picture Gallery and Player Ratings