City of Manchester Stadium review
|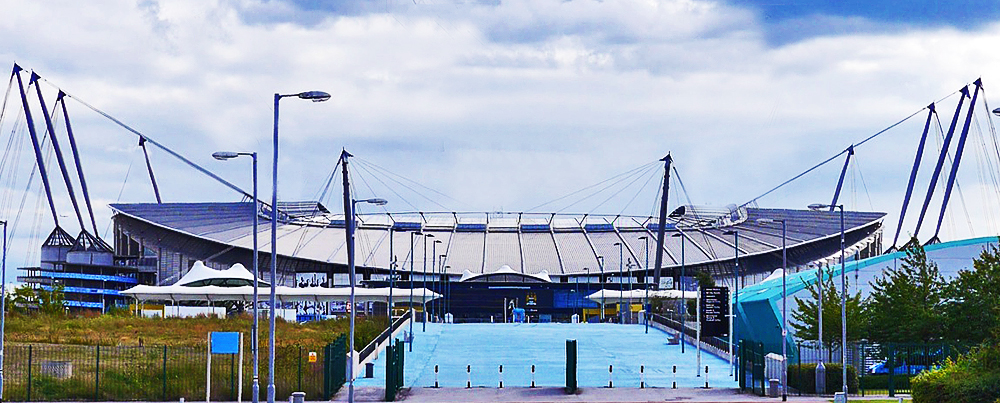 I was privileged to have a personal tour of the stadium after I had asked to take pictures for Duncan Adams' ground guide so here are some random factoids for your perusal.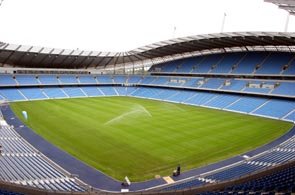 The pitch is currently being injected with plastic grass. This apparently makes the pitch tougher and helps to support the freshly sown real grass as it grows. The plastic grass only sticks up a few centimetres so the mowers don't touch it when they cut the real grass. It has been tried successfully at Millwall and Spurs.
As my guide showed me into the stadium we passed a huge open plan office area with people milling round doing City things. "So this is admin operation" I said. "Nope, this is just marketing" my guide told me.
The lower concourses are huge with bars and food outlets all over the place. There are so many bars in the stadium when you include the special suites that it looks like we must all be alcoholics. As you get higher the concourses get narrower towards the top of the pyramidal space inside the stadium. TV cameras will be installed in the concourses so we can watch the noon KO's.
The view from ground level is good and the stadium looks good but the view from the top of East or West stand is spectacular as you see of the curvaceous roofline, the supports and the Manchester skyline behind.
The eight "San Siro" spiral ramped access towers have large toilets in the middle at the entrance/exit points. There are no stairs.
There is lift access but it's in the restricted areas so you'd have to have a pass.
Not absolutely sure about this one, but I think the capacity is down to 47,500.
My suspicions that the first rows of seats will get wet were confirmed. My guide has no proof of this but he too thought the first 20 rows (which includes my seat) would suffer with rain being blown in when it's pouring. The stadium roof is so high that this is inevitable unless extended to cover a margin of the pitch. So take wet weather gear in January if your seat row is A to T.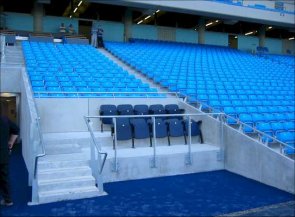 The seats for the hoi polloi are ordinary laser blue bucket type with leg room. Hallelujah! There is leg room for people over six feet tall! If you enjoy corporate facilities your seat is cushioned to protect your gluteus maximus. But if you're a director you get a deep blue armchair with extra long seat. These are very comfy and during a match with say, Charlton Athletic to pick a side at random, I would definitely go to sleep. The seats are so long, that if you are over six feet like me your knees are forced to touch the seat in front. I always thought of directors as small fat guys with tender bums and inferiority complexes and this reinforced my prejudices.
Of no consequence to most of us is that the boardroom has a very nice oval wooden table of the usual type but with purple, yes, purple seats. Now I'm no fashion guru but that purple simply shouts at the redness of the fake mahogany darling. The chairman has his own personal reception room and private bar of course.
Although the running track has gone, there is a quite wide blue "tarmac" area round the pitch.
The letters MCFC are not spelt out anywhere in the seats which are solid laser blue. The fact that City have taken over the stadium is currently very understated with no big Manchester City sign anywhere to be seen.
There will almost definitely be no scoreboard at first although there is a place for one. The quotes City have been given for installing a scoreboard of appropriate size and quality make it too expensive for now. I hadn't realised how much refitting of the hundreds of rooms, bars food outlets City have to do and pay for. Once it was handed over to City with the major work done, there remained a huge amount of fitting all to be paid for at a time when the club has no income. Expect no "transfer fee" singings, the money just isn't there.
The cells won't be used, as we have no "jailers" licence!
When you get your ticket as a card holder, ISC member or Season ticket holder you will get a supporters guide. This excellent little pamphlet shows how to get to the stadium by various means and details the buses you can catch. The walking route from Piccadilly station will be stewarded and will take about 20 minutes (for me, 30 minutes). There are various cycle routes and there will be Cycle stands for you to park your bike. (It reminds me of the early days: bike to Maine Road and pay nine pence to store it in one of the backyards near the Kippax Car Park).
City are looking to accredit car parking facilities all over the area and hope to identify 10,000 such spaces. It seems that the spaces at the stadium itself will only be for the corporate dudes. I have parked in streets near the stadium in the past but City say it will be residents only so don't assume you could find street parking near the ground. This is going to a problem folks.
The normal traffic on Alan Turing Way and Ashton New Road is such that it is bound to clog up near kick off. These roads are never quiet like Lloyd Street could be. So arrive early. No – make that very early until we get to know how parking and congestion problems will be solved. Signs to "Sportcity" get you there in the end. My advice to those coming from outside the city and who don't know their way across the City centre via the Mancunian Way (A57M) is to use the M60 – longer perhaps, but simpler to navigate.
In future years things will get better. The metro route to the stadium has been excavated although there is no track yet. This should be in place in two years time and I believe it will link the main stations to Eastlands.
The metro station which will serve the stadium is part way down a very wide access redolent of Wembley Way. Seeing thousands of blue clad fans wandering up this wide access route will be some sight.
Close up to the louvered vents in the corners you can experience a howling draft – part of the stadium design of course. The vents are opened by ground staff to assist drying in wet weather between games. Together with the transparent roof extensions more light should also get to the pitch. Overall there is a good chance that this extra ventilation and wind will help avoid dreadful pitches like those at Stamford Bridge and OT.
I mentioned the new ticket arrangements in a previous issue but it seems that away fans will get a paper ticket with a chip embedded so that they too can use the proximity card system. Season ticket holders get a plastic one with name, customer number, seat number etc. printed on it. That detail will be on a paper receipt for occasional (card holder/ISC) fans who will have to bring their plastic card to open the "turnstile" and their paper receipt to know where to sit.
The players' changing rooms look excellent and there are both baths and showers. Across the corridor is the player's reception area with a crèche and all mod cons. What I was not expecting was the grassed (plastic of course) indoor warm up areas. It looks like a bit of pitch inside the stadium with the home side warm area bigger than that of the away side.
As has been said before the away team coach will drive straight inside the stadium before the players disembark.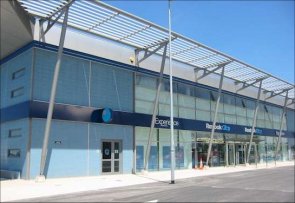 The super store called Reebok City looks good and will shortly be open for business.
The Barcelona game on 10th August which is for Season ticket holders only I was told, isn't the first one at Eastlands – but don't worry you aren't missing anything. The first team play the reserves behind closed doors at Eastlands on August 6th. Bit puzzled about the Barca Season Ticket holders only thing. I would have thought City needed the money.
The stadium is not nearly ready in my inexpert opinion. To get a safety certificate they will have to remove the debris and builders rubbish from the site but inside City will have done very well to fit out the stadium and repair trivial damage done by builders – I saw four ripped cushioned seats which had only recently been installed. There will be large open areas which don't have cars parked on them. These will be built on in future. There are plans for a huge hotel to go up in between the stadium and Alan Turing way a bit like the Reebok.
There will be a Season ticket holders Open day 27th July noon until 4pm.
In conclusion I saw the stadium and its complex in those inevitably frantic days before an unmoveable deadline but I'm sure that when the season starts this will be simply one of the best if not the best stadium in the land. It won't be the biggest but the special features, the integration with both community and other sporting venues makes this a so much better planned facility for both City and for Manchester than we could ever have got by rebuilding Maine Road.

---
In 2014 work started on expanding the Stadium to 61,000 seats.