Continental Cup final: Arsenal Ladies – Manchester City Women 0-1 Match Report
|
Venue: Adams Park (Wycombe Wanderers)
Competition: Women's Continental Cup Final
Date: 16/10/2014 19:45 BST
Attendance: 3,697
Photos: MCFC
I watched this on TV having seen some Women's football on BT Sport before. Arsenal were expected to win and were by some margin the bookies favourites having a fine collection of 41 trophies from past campaigns in their trophy room(s).
At first the bookies seemed to have got this exactly right. Arsenal were camped in City's half and I wondered whether our women would inherit that unfortunate characteristic of our men's side that historically Arsenal are our biggest bogey side. Arsenal's international winger was Rachel Yankey and  in spite of her age at 34 and having been around in Women's football for ages, she still seemed a lot quicker than some of our younger players. She caused havoc throughout the first half. In City's Goal Karen Bardsley was kept busy and pulled of a point blank save with her shoulder when it seemed certain that Arsenal would score.
Up front for City, Toni Duggan chased around hardly receiving a single decent pass for the whole of the first half and being outnumbered every time she had half a chance of creating a threat. Overall City had perhaps one discernible chance in the first half but against all the odds they kept the Arsenal out with Steph Houghton marshalling a defence becoming used to the last ditch tackle.
The second half was more even and City slowly but surely gained in confidence as the play moved to a balance between the two attacks. City's best moves came down the right with Jill Scott often providing the crucial pass.
And so on to 76 minutes. A perfectly weighted and accurate pass from Jill Scott was collected by  winger Krystle Johnston whose perfect cross (were you watching Jesus Navas and anyone else taking corners this season?) allowed Isobel Christiansen, who isn't the tallest player on the pitch, to head the ball out of the reach of Arsenal's excellent keeper Emma Byrne and give City the lead. I expected an onslaught from Arsenal who would not only be wanting to win another trophy but surely would hate to be beaten by these new upstarts from the north which don't even give themselves the title "Ladies" like all the other sides in WSL. They tried of course but City nearly went two up with a fantastic free kick from Steph Houghton which the Arsenal keeper Emma Byrne keeper just managed to tip onto the bar.
Full time came and although there had been very little stoppage time apart from a few subs the ref added four minutes of time at the end. But we are City, we know everyone borrows Fergie's watch when we're winning. After two minutes of added time a clash of heads in the City goalmouth left City keeper Karen Bardsley dazed on the ground and it looked as though a sub might have to play the final two frenetic minutes. She recovered and in spite of the Arsenal keeper coming up for a corner and the ref adding a further three minutes, the whistle finally blew and City Women had won their first piece of silver ware in their first season of existence.
Cue trophy celebrations with champagne and photos and an awful lot of laughing, hugging and smiling. They made Steph Houghton woman of the match but for me it was Jill Scott whose midfield dynamism, dribbling and passing ability stood way out above the others. The only downside was the cup itself.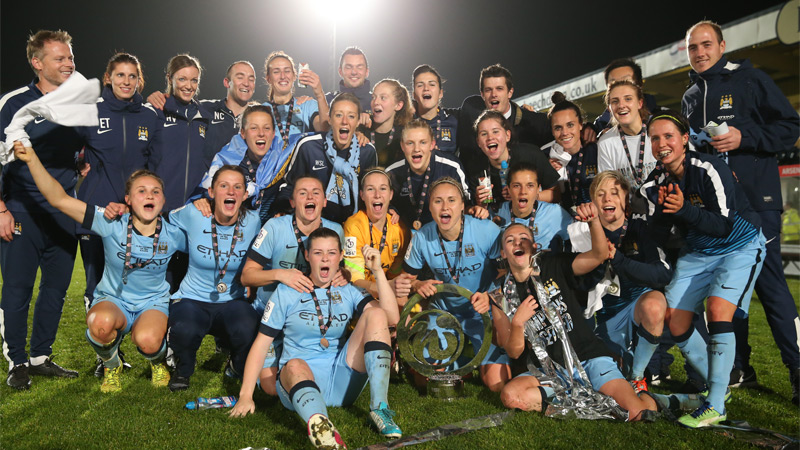 It isn't a cup but what looks like a cardboard cut-out from the back of a cornflake packet sprayed with sliver glitter. For goodness sake it's a cup competition. Buy a proper blurry Cup! I'll even buy one of you like but this looks a bit second rate and we shouldn't put up with that if women's football is to gain the new status that I think everyone would like to see.
New status should really be modern status because, and you may not know this about the women's game, at one time it was so popular that the crowds came in their thousands to watch. In 1920 a game at Liverpool attracted 53,000 with between 10,000 and 15,000 unable to get in. Then our wonderful Football Association who to this day can be relied upon to get thing mostly wrong, banned the women's game in 1921 and it remained banned for 50 years. Hard to believe isn't it?
Reflecting on my own reactions to watching City women, it took very few minutes for the true City supporter in me to come out, throwing cushions at the T.V. when the ref made utterly stupid decisions (i.e. any I didn't agree with), yelling advice at everyone and instructing players where and when to pass the ball. Yep, it seems I'm an expert in this game as well as the ones I watch at the Etihad.
City Women will be playing at our new 7,000 capacity stadium on the new training academy site from next season and I for one will go to watch a few games and support the newest team in the fold as we strive to "ruin football" in the women's game as well as the men's.