Manchester City – Chelsea 1-1 Match Report
|
Venue: Etihad, City of Manchester Stadium
Date: 21/09/2014 16:00 BST
Photos: Richard Tucker
"Super, super Frank, super Frankie Lampard" rang round The Etihad after Frank Lampard came off the bench and dramatically scored an equaliser against the club that he served so brilliantly to give City well deserved point. That we did secure a draw against the league leaders seemed unlikely when ten man City were trailing to Schurrle's 70th minute goal, but it emphasised our team's strength character.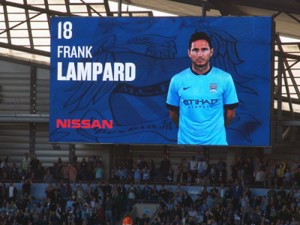 It was a fascinating contest. An absorbing, tight tactical battle. The sort of game that has you kicking every ball and stretching every sinew to make a tackle. Less discerning commentators who don't truly love the game would say that it was dull, but this match was far from boring.
Pellegrini made changes from the Bayern game, rotating Kolarov back into the side, starting with Milner on the right for Navas and bringing Aguero into the starting line up alongside Dzeko. He also took a gamble by granting Eliaquim Mangala his first English action alongside Vincent Kompany.
First half
Encouragingly, City started off at a real pace and were feisty and competitive from the off on a lovely sunny day in Manchester. Chances were at a premium in the first half and the closest either team got to scoring was Yaya Toure's stooping header from Silva's corner being an easy gather for the impressive Courtois. As you'd expect Chelsea were very well organised to deal with our potent attack. So they should have been: Mourinho's teams are generally more about stopping their opponents first rather than imposing their flair. Their best attempt was Ivanovic header from a corner which Fernandinho managed to deflect behind, though it was probably going wide anyway.
The was a good partisan but never nasty atmosphere with City reminding them that "We are the Champions, Champions of England" and both sets of fans took turns to delight in a certain spent force of a Liverpool captain and his lack of balance! There is no love lost between Chelsea and Liverpool either.
By no means was this a dirty game, but referee Mike Dean did his best to mar the game with a rash of yellow cards, and was inconsistent in doing so. He booked Silva for an innocuous trip in a non-threatening situation in the first half, yet failed to book Fabregas for an identical offence in the same spot in the second. Yaya and Fernandinho also found their way into the book and with Dean in ultra-fussy mood, it became increasingly evident that we would struggle to maintain a full complement of eleven on the field. Pablo Zabaleta was harshly booked for a challenge on the edge of the box that Hazard clearly played for by making sure he ran into Zaba. It was to prove a costly booking and more evidence of inconsistency. A free kick it certainly was but Hazard made sure there was contact. If referees are going to book players for such challenges then we should have a minimum of 12 bookings in every match.
If anyone was looking to cause trouble in this match (on the pitch at least), it was the niggly arch windup merchant Costa, who has made a very good start to life in England. Both Vincent Kompany and Eliaquim Mangala were having none of it and were quick to deal with Costa in a physical but fair manner. Costa wasn't allowed to dwell on the ball. Most memorably Kompany twisted away from Costa just outside our box and used his whole frame, muscle and determination to get himself with the ball away from Costa, drawing the Brasilian born striker to foul him. The desire was wrote large on the City captain's face.
In an absorbing, almost personal contest Vinny looked like a man who was not going to be beaten. His new partner Mangala wasn't either and he used his considerable physique, strength and pace to give Costa no quarter either. Indeed it was impressive stuff from our two centre backs who could be about to form a formidable partnership.
Both sides had spells of possession in the first but defences managed to nullify the threats of some considerable attacking talent on both sides. Kompany made a particularly fine tackle to thwart Ramirez as he ran towards the City box.
Next page: Second half