Manchester City vs Barcelona Champions League preview
|
For the second successive Champions League season Manchester City will lock horns with Barcelona in the final of the last 16. After crushing out 1-4 last season, City might feel the result were harsh especially after a wrongfully given penalty set up the worst possible start of the first leg. In the second leg City were looking lively but couldn't quite provide the needed end result to threaten the Catalonians in their home ground.
This season City look stronger, are more experienced and have a Premier League champions medal in their belt, one that was missing last season. The team is almost fully fit and they arrive from a 5-0 thumping of Newcastle United this weekend.
Barcelona on the other hand is currently playing second string to Real Madrid and was knocked out by the other Madrid team Atletico in the quarter finals last season. They had a poor run-up this weekend after loosing 1-0 to Malaga.
This game might be separated by the magic of either of the two maverick Argentinians in either team. Lionel Messi has proved again and again that he can make the difference, especially in the Champions League. But to the City-fans the notorious scoring abilities of Sergio Aguero are valued just as high. Don't be surprised if it's by the foot of one of these two the game is decided.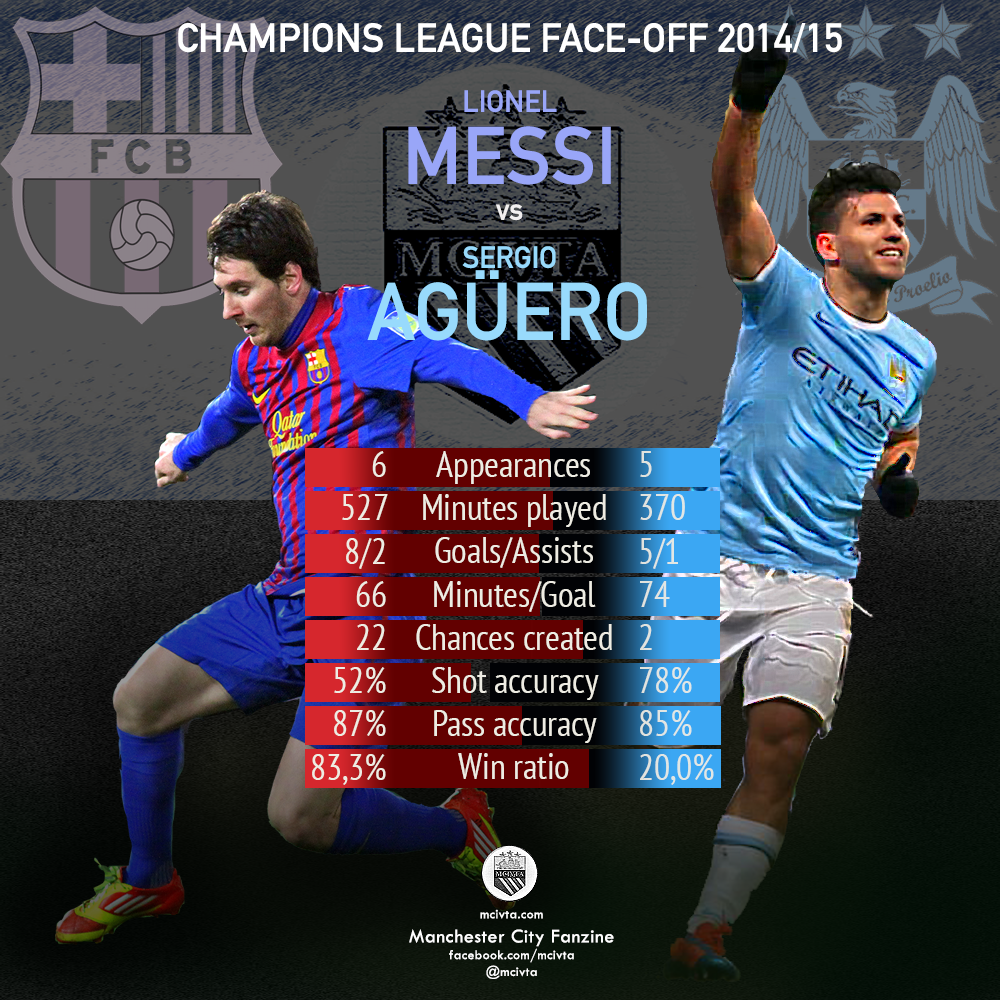 City's ability to lock down the defense has been questionable this season, and the home record is not formidable. But with Vincent Kompany out injured for the most part of December and January, only now is he returning to his full match fitness. City has also been boosted by the return of Yaya Toure and new signing Winifred Bony from the Africa Cup of Nations, although Toure is unavailable for the first leg due to suspension.
Barcelona will also look to Luis Suarez for advice on how to turn over the English Champions. Suarez scored twice against Joe Hart for Uruguay in this summers World Cup and will look to repeat the feat.
Injuries:
City: James Milner (knee – out)
Barcelona: Thomas Vermaelen (hamstring – out), Douglas (hamstring – doubtful)
Tickets:
The game will be a definite sell-out. Check out The MCFC Official homepage or this Champions League ticket service for any spare tickets.
What the bookies say:
6/1 on City to beat Barcelona could prove to be easy money…