Manchester City – Spurs 4-1 Match Report
|
Venue: Etihad, City of Manchester Stadium
Competition: Premier League
Date: 18/10/2014 12:45 BST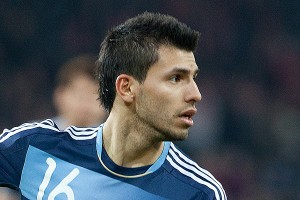 Sergio Aguero scored all four of City's goals in a stellar performance as City overcame a tricky Tottenham side in this exciting encounter at the Etihad. It was indeed, one of the greatest performances by a forward in the history of Manchester City.
We have had several classic encounters with Tottenham down the years (eg The Ballet on Ice, a 5-2 win against Klinsmann and co in the Brian Horton Era, and that amazing come back from 3-0 down with ten men to win 4-3 at White Hart Lane in the FA Cup, to name but three), and this was another one.
It was a game of four penalties with both Aguero and Soldado having one saved. Thankfully Aguero scored his two other spot kicks sending Lloris the wrong way but it was his two strikes from open play that highlighted that he is a striker of the highest class. The first of which where he took Lampard's pass in the inside left channel and worked space to thread in a right foot shot just inside the right hand post; and his fourth goal and our final goal of the match where Aguero burst onto a long pass from Fernando, cut inside and powerfully struck brilliant low left foot shot just between Lloris's outstretched right hand and the post. They were two world class strikes, and his fourth strike was literally breath taking. It wasn't all plain sailing on an unusually warm October day as Tottenham's three attacking midfielders led by Eriksen posed problems for City for an hour and we struggled to clear our lines at times. It was Eriksen who equalised for Tottenham almost straight after Aguero gave us the lead in the 13th minute. Aguero's assertive penalty in the 20th minute re-established our lead but the visitors were a threat as we surrendered possession rather too easily as we lacked poise at times. Hart was forced to make an important save with his legs from Soldado, as nerves were shredded in the stands as well as on the pitch. The game finally turned in our favour after Soldado missed a penalty at 2-1 and when Fazio received a red card after he pushed Aguero in the box: Sergio made no mistake with the spot kick to make it 3-1 before rounding it off with his great finale.
The Kippax and South Stand sang "City…tearing Cockneys apart again," to the large travelling contingent from the capital.
This was a well deserved win and, indeed, City could have had more goals. All this was achieved with David Silva some way below his best and City were without the rested Yaya who made a late cameo sub appearance. Hart was excellent in goal. Milner, who was outstanding hit a post and Navas had a good game on the wing.
The final score was deserved but it does not tell the whole story here. First of all, credit to Tottenham as they always come to attack, and they caused us problems in this game. City had to battle hard to win this game, and our passing and defend lacked composure at times and this was not helped by Frank Lampard's thigh injury which saw him stretchered off, clearly in pain – hopefully he will be back soon. As well as Tottenham played, City had more clear cut chances. We missed Yaya until he came on. For all the criticism that he receives, he has time on the ball, uses the ball very well and oozes class. But even so, City played well in this game and our extra quality up front won the day, especially Sergio Aguero's supreme class.
Next page: Match details and player ratings