Arsenal – Manchester City 2-2 Match Report
|
Venue: The Emirates
Date: 13/08/2014 12:45 BST
City came away with a draw away to Arsenal but would have won had it not been for the failure of referee Mark Clattenburg to punish fouls by our opponents in the lead up to both Arsenal goals, and his failure to award City a penalty for a blatant hand ball by Jack Wilshere. City played very well and have every right to feel aggrieved, especially given Clattenburg's partial showing at Anfield last season. Despite Clattenburg, we almost won this exciting game as we finished much the stronger, hitting the post twice and being denied by an excellent save late on.
Extra credit is due to City as we almost won this game without Yaya Toure and the injured Fernando. Manuel Pellegrini explained that Yaya was omitted from the squad as he had returned back late from International duty on Friday. As a result, Fernandinho and debutant Frank Lampard started in central midfield with James Milner on the left and Jesus Navas on the right. Sergio Aguero started in attack with David Silva just behind him in an advanced role.
First half
It was Arsenal who started the quicker, moving the ball at pace in midfield, closing us down and outnumbering us three to two in the centre. Hart was forced to make a good save to a low shot from Sanchez that dipped in front of him, then he had to be alert to palm away a cross from Wilshere with Arsenal players ready to pounce. Then with Arsenal players harrying us, Silva won a challenge in midfield only to play a short back pass which Welbeck pounced on. Every City fan would have held their breath, even if it was only Welbeck…Thankfully, it was only Welbeck, and he chipped over Hart against the post and the ball rebounded into the grateful arms of the City keeper. It's a shame that Welbeck won't be lining up for United against us anymore. Still, there's always Phil Jones…
Headless chickens aside, Arsenal did, however,  sign some genuine quality in the summer. Sanchez was a real livewire in attack and using his quick feet effectively, he proved to be a real handful. Added to this, with Arsenal quick and feisty in midfiled, City were mainly playing on the break in the first half hour with Aguero and Navas both having runs and crossing into the box only for Arsenal defenders to intercept. The ball was not really sticking to us in attack with Arsenal defenders allowed to foul Aguero with impunity which was to prove costly later in the game.
It was an exciting game with both sides intent on trying to shoot on sight. Ramsay forced a regulation low save from Hart. We had our first meaningful attempt when Lampard fed Milner and the City number 7 played a smart one-two with Aguero and shot just over from distance. If that was a warning it wasn't heeded for City carried a great threat with the pace of Aguero and Navas on the break, and they struck just before the half hour.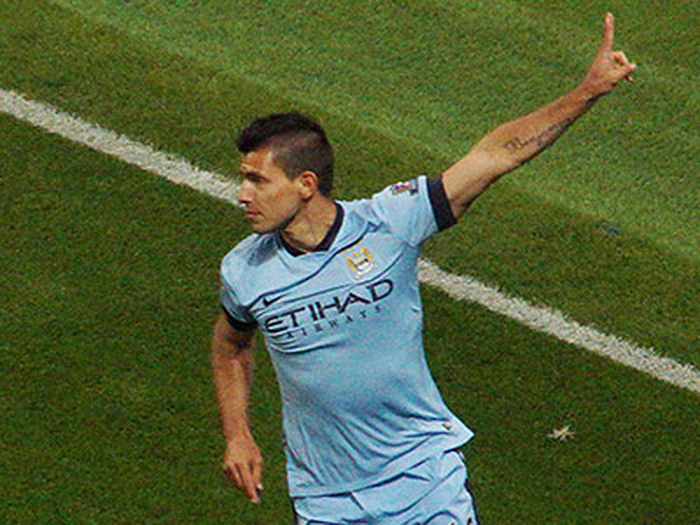 Aguero won a meaty fifty fifty challenge just inside the Arsenal half and the ball span out towards the right wing. Navas took the ball on the run at pace down the wing before crossing accurately and Aguero swept in a crisp finish. It was a very well taken goal.
City looked in control for the rest of the half as Arsenal became hasty with their shooting: Sanchez firing well over with a free kick and Ozil well wide and over in two other attempts.
HT 0-1
Second half
Arsenal started the second half like they did the first. Welbeck forced a save from the angle, but if Hart hadn't saved it serious questions would have been asked of England's number one. Then Pablo Zabaleta made an excellent covering interception to snuff out a searching Sanchez cross from the right.
Pellegrini had made a change at the break, bringing on Nasri for Lampard, and shifting Milner into his favourite central position for once to give us more legs and sharpness in the engine room. David Silva was used in a deeper position.
Silva was pulling the strings as ever with great panache in the Aguero fired over in the 55th minute then four minutes later Clichy dinked a ball over Szczesny and wide following a one-two with Silva. City were looking very comfortable, and i ncontrol. Arsenal were on the ropes, or so it seemed. Wilshere was up to some desperate, cheating tactics, falling to the turf without contact, and referee Clattenburg kept buying it. Was Clattenburg really fooled?
Then very much against the run of play, and controversially, Arsenal equalised. Aguero was clearly fouled at least once as he tried to hold up the ball inside our half,  Arsenal robbed possession and WIlshere scuttled down the right, tricked his way past Clichy and surprisingly beat Hart with a chip at his near left hand post.
City were still in the ascendency, and both Aguero and Navas forced saves in the 64th minute. Nasri should have done better with his shot in the 72nd minute which failed to test Szczesny.
By this time Dzeko was on for Aguero, but Arsenal were buoyed by their equaliser and the force was with them, and some might say, so was Clattenburg. Kompany headed a cross out of the box, Wilshere headed it back into the inside left position where Sanchez spectacularly volleyed in past Hart to make it 2-1 to Arsenal.
In years gone  by, City would have been beaten by that goal, but not this City team. They are Champions and they proved it again here, playing like Champions.
Arsenal were forced onto the back foot and Wilshere was very lucky to get away without conceding a penalty when he used his arm to steer the ball out of the box. It should have been spotted by the linseman on that side if not by Clattenburg.
City still had to be vigilant in defence as Arsenal carried a threat. Wilshere lobbed a pass which Ramsey fired wide in the 77th minute and Vincent Kompany and Martin Demichelis showed their rock solid qualities to snuff out Arsenal attacks.
Manuel Pellegrini rolled the dice once more bringing on Kolarov  for Fernandinho. His calculated gamble soon paid off when Kolarov's superb out swinging corner from the left was met by a Martin Demichelis bullet header that deservedly levelled the scores. What a relief that was, but City's play merited more than that, and went for the winner.
Both sides to their credit went for the winner but City were the far more likely to score, and finished much the stronger. Whilst Welbeck was wide (where else!) with a curler in the 87th minute, the Boys in Blue weren't content with being level and went for it. Twice City hit the woodwork. Navas crossed from the right in the 88th minute and Kolarov hit the left hand post with a curler. Silva then played an incisive diagonal pass that hit Dzeko, Koscielny and the right hand post. Then in the 94th minute (there were 6 minutes injury time for a serious injury to Debuchy) Silva presented Dzeko with a chance to the match with some of his typical brilliance. Taking a touch and turning, Silva played a lovely through ball for Dzeko but the Bosnian's sharp low shot was brilliantly saved by Szczesny. Whilst Nasri swept in the rebound it was ruled out for offside which TV replays later confirmed to be correct.
A point at Arsenal is always hard earned, and many will say a draw was a fair result, but it was, nevertheless, frustrating. We should have built on our lead at 1-0 up and we were on the rough end of  refereeing decisions. Even then, Hart should have done better for the first Arsenal goal, and possibly the second.
Arsenal are like Arsenal always are. They play great football, particularly at the start of the season, when the sun is shining, but remained soft-centred. It is unimaginable that Chelsea would allow the free header that Demichelis was granted to score. That is why they will not challenge for the title this season either. The London press can big up Jack Wilshere all they like, but in reality he is the classic Arsenal paper tiger. The Little Englander won't be seen for dust when the going gets tough in February, and he will be hapless, outpaced and outclassed on trips to The Etihad and Stamford Bridge. The sun shone for him in this match and Clattenburg somehow decided he should stay on the pitch. Not every referee will be so lenient with him, and he is nowhere near consistent nor good enough to sustain the form he showed in this match over a season.
City played very well despite having to replace both central midfield players. Fernandinho and Milner proved to be very good replacements and with David Silva adorning the game with his alchemy from his more advanced "number 10" position (even if he is a number 21), and Navas using his pace to great effect down the right all afternoon, our midfield ended up clearly in the ascendency. At the back Kompany and Demichelis get better and better as a partnership, and the full backs are getting fitter by the week.
This draw leaves us 5 points behind an ominously strong looking Chelsea, but there is a long way to go and what's a 5 point gap to modern day Manchester City?
Next: Match stats and ratings