Bayern Munich – Manchester City 1-0 Match Report
|
Venue: Allianz Arena Munich
Date: 17/09/2014 19:45 BST
Photos: Wikimedia
Cruelly and agonisingly City lost to a late Bayern Munich goal in the first Champions League match of the season. For so long City had worked very hard, riding our luck at times, and it had seemed that industry had paid off, only for a deflected volley from ex-City defender to rob us of a deserved draw. Yet this defeat could easily have been a win had the referee award a penalty to City just five minutes earlier when Silva was upended in the Bayern box by Bernatia.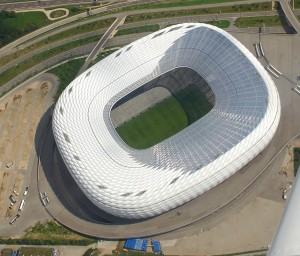 First half
We could have been behind after 45 seconds when Yaya Toure failed to track his runner in midfield, Gotze threaded the ball though for Muller who rounded Hart. The City goalkeeper actually made contact with Muller, who, was off balance when he shot into the side netting. It was easy to fear the worst when the net billowed!
Two often we did not close down enough in midfield and the chief culprit was Yaya Toure who showed little interest in proceedings for much of the evening. Too often he strolled back as everybody else bust a gut to stem the flow. That City were still level so late owed much to ten men working to their maximum and especially a brilliant display from Joe Hart who had to make a series of good saves throughout the night.
Phillip Lahm was excellent, prompting and pulling the strings in central midfield.
Hart made an important save from a Muller header in the 19 minute after an excellent Bernat cross. City's goal led a charmed life: a Gotze shot deflected off an unwitting Kompany elbow in the 21st minute.
City enjoyed a spell after the initial storm. Dzeko curled one wide from another astute Silva pass just before the half hour.
Guardiola changed his formation from 3-5-2 to 4-5-1, switching Alaba from left wing back to an attacking midfield role and this caused us a lot of problems as our midfield was outnumbered (not just because Yaya decided he wasn't going to play). Alaba forced Hart to make another good save after a clever Muller lay off, before threading a lovely ball through for the off-form Lewandowski who fired into the side netting.
When City passed the ball we didn't make the most of Navas's pace, as we slowed down the play. As well as Dzko p;layed, competing physically, winning balls regularly in the air and holding the play up, one couldn't help that we would have been more potent on the break had we had Aguero's pace to burn.
City's best chance of the first half came in the 40th minute when Sagna's glancing header was beaten out by Neuer. Bayern overloading of the flanks caused us a lot of problems – often it would be three on two, but City's main problem was that there not enough closing down in central midfield. Chiefly it was Yaya Toure's unwillingness to exert himself that left us overun in midfield. Special mention is due to Fernandinho who strived to do Yaya's job as well as his own, but he shouldn't have had to.
Second half
After more threats on our goal early in the second half Rouben Cousillas, deputising for the suspended Pellegrini, brought on Milner for Nasri. The Frenchmen made no fuss but he would have been justified in wondering why he was being given the hook when his mate Yaya hadn't broken sweat. City's midfield was far more solid with the committed Milner in it alongside Fernandinho, and Silva switched to the left. Yaya was nominally in an advanced role behind Dzeko. Though Bayern were more of a threat theybhad less chances. Granted Hart had to save a Gotze shot that was deflected, and a Bernat chip after his one aberration (a spill). We had a good chances: Fernandinho fed Navas down the right and Silva's diving header flashed wide of the post in the 62nd minute.
City seemed to have the measure of most of what Bayern threw at us. Kompany revelled in this game and Demichelis and the excellent Fernandinho got crucial blocks in.
Cousillas brought on Aguero for Dzeko with a quarter of an hour to go and then Robben was brought on for the last 14 minutes. The Dutch winger was soon up to his usual cheating tactics and took a dive in the box which was thankfully dismissed by the referee.
The referee however made a mistake that was pivotal in the outcome of the match when Silva was clearly tripped in the Bayern box as he moved towards an Aguero cut back. Interestingly, we were also denied a clear penalties when Silva and Micah Richards were fouled in the box three years ago on the same ground. Again, bad refereeing proved to be very costly for City.
Robben was predictably causing us problems with his skilful running, and Kolarov was brought on to help Clichy. Still, the Dutchman managed to influence the outcome of the match. We were not able to properly clear a Robben cross or the loose ball and it broke outside the box to Boateng and he volleyed the ball via a deflection off Gotze past Hart to win the match for Bayern. To say it was an absolute sickener was an understatement. Aguero had a chance to equalise but Dante did just enough to put him off and he shot wide.
Bayern may have dominated but City can feel aggrieved not to have at least had a draw, especially given the non-award of the penalty for City. Granted Bayern were not at their best, especially with Ribery unavailable and Robben only a substitute, but there is no doubting City's quality in this game. Whilst we missed having Pellegrini on the sidelines to respond to Guardiola's clever changes of tactics, overall City were unlucky not to get something from this game.
We cannot dwell on this defeat. We have an important game with Chelsea on Sunday. We have to get at least a draw there.As for the Champions League we have to maintain our self belief. We cannot afford to be overawed again or daunted by Roma's 5-1 win over CSKA Moscow in a home European tie and we must put our best foot forward and beat Roma in the next match.
Next page: Performances