Manchester City 1 Everton 0 Match View
|
Having watched Newcastle beat a sluggish but overall a bit unlucky Chelsea side on TV, I was fairly sure that City would take advantage and that our recent form at Southampton and Sunderland even meant we might see quite a few goals. This was the third of our matches against traditional bogey sides who over the years have taken more points from us than their usual position in the league would have indicated.
The first surprise was seeing City start with only one striker – our in-form Argentinian genius Sergio Aguero. Surprising, because if you remember at the time of his appointment, Pellegrini made some rather bold statements that City fans would see a difference in his selections from those of his predecessor Roberto Mancini. He would always attack. Roberto attacked too but was prepared to choose a team to suit the occasion which sometimes meant playing with only one striker at home.
So here were were looking at a typical Mancini compromise of the type we told we probably wouldn't be seeing at the Etihad. To be fair Dzeko was only just back from Injury so probably couldn't play 90 minutes and Jovetic had strained a hamstring so playing with one up front was quite sensible.
All went reasonably well for about 120 seconds at which point Aguero seemed to fall awkwardly and twisted his knee. After some time with treatment on the field and then waiting hopefully at the edge, he hobbled off in obvious distress and hey presto we had no strikers at all. Pellegrini brought on our promising but inexperienced and slight-of-build youngster Pozo but the absence of Aguero, arguably one of the current best and most effective strikers in world football, was bound to have an effect. City dominated but simple couldn't find much real threat near goal. Now there was no Aguero the usual two or three opposition defenders briefed to shadow him around, usually to no great effect, were free to stop lesser City players from having proper attempts on goal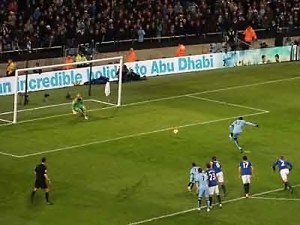 Then we received two major strokes of luck. First the referee Andre Mariner gave City a penalty for a fairly innocuous challenge on Milner and Touré scored from the spot. It was never a penalty in a million years but we City fans accepted the early Christmas gift with good grace remembering only too well how Aguero had recently not only been clattered for a certain penalty but had his name taken for diving to add the severest insult to injury. The second came when our quick but unpredictable centre back Mangala decided to practise his kick boxing skills on Samuel Eto'o. It was surely a red card offence but he got a yellow.
From then onwards two City players rose to show they could keep our attack pressing hard even if it had been badly blunted. If you could give joint awards, both Nasri and Milner would be men of the match. Later on Pellegrini took off Pozo and brought on Dzeko but there was no discernible increase in our threat. The match swayed in different directions and once Everton had introduced Ross Barkley they looked dangerous, Joe Hart having to make his one major contribution with a superb one-handed save which looked a certain goal. Previously Everton's goalkeeper Howard had made an excellent save with his legs from Pozo who also seemed certain to score his first Premiership goal for City.
The rather indifferent game eventually died a deserved death and City had held on to the clean sheet and won 1-0. Whether it was fair or not is pointless to ask. That notion doesn't really apply to football. The encouraging thing was that Dzeko and Kolarov are back and no doubt will start playing increasing amounts of time until match fit. Silva and Kompany are on the way back – perhaps next week but probably not in time for the Roma match. On the negative side Aguero is out for an unknown length of time but will definitely miss the Roma game.
So the positive from this rather dreary game with another of our previous bogey sides, is that we squeezed a win with far less guile and skill than we've shown recently and that is exactly what you must do if you want to compete for the Premiership Trophy.