Preview: MCFC – Spurs 18.10.14
|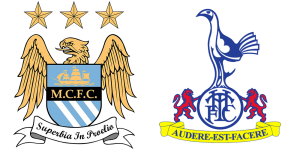 In my early years watching City this was a fixture to look forward to. There would usually be plenty of goals and between 1957 and 58 for example we beat them 5-1 at Maine Road, they duly beat us 5-1 at White Hart Lane and so we beat them 5- 1 the next time they came to Maine Road again.
In the 1960-61 season the famous Spurs side was at its peak and they won the first eleven fixtures in a row. Their next was against lowly Manchester City on 10th October 1961 and we drew one each spoiling their brilliant start. They went on to win the next four and so started that season with fifteen wins out of sixteen.  Unsurprisingly they ended up champions that season but it was the last time they've topped the table. The previous season had seen Spurs drawn against Crewe Alexandra in the FA cup fourth round and to everyone's amazement and to Spurs' embarrassment they drew 2-2 at Gresty Road. The replay happened when City were way to Blackburn in a league match and the half time score was put on the board as 0-0 which caused a great deal of murmuring – were Crewe Alex doing it again?  Then the announcer informed everyone that they only had space for one number on the board but the half time score was actually 10-0 not 0-0. Spurs went on to beat Crewe 13-2.
In the Premiership years City have fared  badly against Spurs until recently with only three wins between 2000 and 2010. Spurs became a bit of a bogey side. Since the start of the 2010 – 2011 season though we've turned the tables on Spurs and beaten them six times out of seven with last season the best: a 6-1 win at home and a 5-1 win at White Hart Lane.
We should have fairly full squad to choose from and there's even a possibility that Touré could play as he returned from Africa on Thursday. Spurs say they have doubts about their excellent keeper Loris and forward Chadli but I reckon they'll suddenly find that they are fit enough on the day. It should be a good match but I would be amazed if we repeated last year's efforts so I'll settle for whatever flavour of win City choose to serve up. We need to get in gear though – the derby isn't far away and we must keep our profligate and boastful neighbours in their rightful place.