Preview: Aston Villa – MCFC 4.9.14
|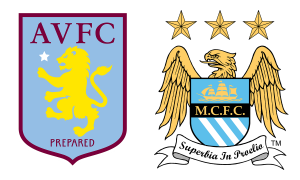 Villa versus City Saturday 4th October 2014 5.30 pm Kick off.
This will be my eleventh visit to Villa Park and I can't remember many of the games but one incident stands out a few years ago. Just before the match started a plea in whiny brummy accent came over the loud speaker system asking City fans to sit down during the match as this was club policy. There were only a few standing up at the time but to a man woman and child they all stood up at once and remained standing for the whole game. Moral:       Never mess with an away crowd – they will always do the exact opposite of what you want.
Last season at Villa we decided to revisit "old City" tactics and after going ahead 1-0 and then 2-1 we contrived to lose the match 3-2 but actually outplayed Villa for much of the game. It's worth remembering this beginning because after six games (the sixth last year was also Villa away) we had ten points while this year against notionally stronger opposition in the first few fixtures we already have eleven.       That's why none of these games can be said to be crucial as far as the title is concerned because we won it from that inauspicious start last season.
Villa started this season with a really good run beating Stoke City and Liverpool 1-0 away while winning at home against Hull City 2-1 and drawing with Newcastle United 0-0. More significantly they only conceded one goal in those four games but since then have lost to Arsenal at home 3-0 and Chelsea away 3-0. They have a young side with some talented hard working players and Benteke is now fit but should, in theory, be no match for a fully fit City side.
In theory…..
We have Jovetic fit now but I wonder if Pellegrini will play Milner who really should be a first pick these days.
My prediction: Villa 1 City 3
And now for something completely different:
As reported I the Roma match view, there has been quite a bit of comment about the empty seats in this game last Tuesday 30th September 2014 (Attendance was 35,709). Much that is, by the press after negative comments by Paul Scholes and Rio Ferdinand whose objectivity in discussing Manchester football is surely not in dispute. Apparently United fill their ground to the rafters on European nights and have done this since time immemorial. According to their web site though United also had trouble filling their stadium in those early years on European Cup nights and it looks as though they began to have full capacity attendances in the Premiership era only from 1997 onwards after they had won three Premiership titles. Fergie's much publicised priority was to "knock Liverpool off their perch" so it isn't entirely surprising that other competitions were slightly less popular.
City also need to note what happens when you reduce ticket prices for less glamorous opponents such as we did against Watford at home in the FA cup January 2013. The attendance for that game was 46,821 – but for Roma the prices were much higher and the unsurprisingly the attendance was lower. The good news though is that City have lowered the prices for the Newcastle Capital One Cup home match on 29th October. Adult tickets in the Colin Bell tickets are £20, elsewhere £15 but under 16s get in for only £1.