Preview: MCFC-Roma 30.9.14
|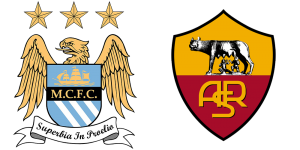 City have played a few Italian sides: Napoli recently, AC Milan in the pre- season as well as in historic cup competitions. Juventus have also visited Maine Rd in the distant past but we have never played Roma. At present the inclusion of a very strong Roma side in a group comprising the champions of Germany, Russia and England shows what an utter mess the U.E.F.A. coefficient system of allocating teams to groups actually is. Assuming you've never delved into the details of coefficient calculation, it is this calculation which determines which "pot" a team is placed in and therefore its chances of getting into the last 16. The current system seems designed to maintain a preferred cartel of U.E.F.A. clubs whose aim is to play this lucrative competition annually and prevent upstarts like City from getting feet under the table. To see how critical the income from this competition is to participating clubs in the cartel, visit The Swiss Ramble at http://swissramble.blogspot.co.uk/ and look at the latest article about Arsenal. On the seventh graph down it shows the proportion of income which City, United, Chelsea and Arsenal earned in 2013 from the Champions league.
Like many, I like to see foreign teams play and to see how we match the different styles of play but doing it in this competition is a joke. Roma, our opponents on Tuesday night, haven't lost a match this season and will undoubtedly come to the Etihad for a draw or a win with a counter attacking away goal as a possibility. Being Italian, their ten man defence is likely to be a good deal more competent and well versed in the noble art of bus parking than say Stoke or Chelsea and we have already demonstrated that we currently aren't so good at breaking such teams down.  Should they manage a draw they will certainly fancy themselves to win at home (and I would too) which would mean we almost definitely wouldn't qualify for the last 16 never mind come top as so many thought we might before the draw. So if you value this competitions and our progress in it, then tonight is critical – even at this early stage only a win will do.
Of course if you don't value this competition you won't give a monkeys and will view our departure as increasing our chances of retaining the title which really matters: the Premier League. I'll be going this evening of course but should we fail to beat Roma part of me will be quite relieved.
As expected City will have Joe Hart back in goal and no doubt Kolarov at left back but the really good news is that Jovetic is fit again so I expect him to be a sub at least.
My prediction? One each again exactly as I predicted for the Hull game.