MATCH VIEW: LIVERPOOL 2 MANCHESTER CITY 1
|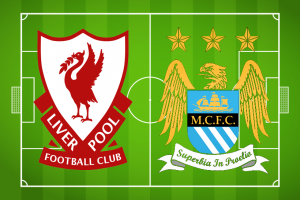 LIVERPOOL 2 MANCHESTER CITY 1   HT 1-1
City's title hopes quite literally went South with another defeat at Anfield that we cannot argue about. City were beaten by the better team on the day. We lacked the energy, pace and desire of the home side, particularly in midfield and too often Liverpool players were allowed to run past us in midfield. We surrendered possession far too easily in general. Even the normally accurate Yaya Toure gave the ball away several times. Worryingly, we didn't seem to have any idea how to change things for the better and fight our way out of the stranglehold Liverpool had on the game.
Pellegrini was found wanting tactically yet again. He does not learn from his mistakes, and increasingly it looks like he cannot or will not learn from them. Everyone else knows that 4-4-2 does not work against the teams at the top of the League and the better teams in Europe, and yet he stubbornly resists with it. To play that way needs at least one of the strikers to drop into midfield to stop us being outnumbered. Dzeko is not quick enough or suited to do the job, and to ask a world class striker like Sergio Aguero to do it is a waste of his talents, and takes him away from where he can do damage to the opposition.
City started off well, and even dominated possession in the first half, but every time Liverpool attacked, we looked vulnerable.
While City had the first few minutes, Liverpool were soon examining our jittery back four in which Vincent Kompany again looked nervous. Coutinho split City defence with an incisive pass which Lallana chased but he was under pressure from Kolarov and his low effort was saved fairly comfortably Hart. Lallana had the ball in the net with a spectacular angled drive from a tight angle after another bit of Coutinho magic, but was rightly ruled offside.
City didn't heed the warnings and Fernandinho under hit his pass towards Vincent Kompany who fresh-air kicked after Coutinho beat him to it and kicked the ball past him. Coutinho fed Sterling and in turn he ball was worked to Henderson who hit a rasping shot over hard past Hart into the top corner.
People may blame Vincent Kompany, who at his sharpest might have got there before Coutinho, but he was actually put in a difficult position but the short pass in the first place.
City tried to hit back. A long lofted pass from Silva found Aguero who outstripped the Liverpool defence and hit the right hand post.
It was an end-to-end game, with City looking more vulnerable than Liverpool. Vincent Kompany continued to look very uncertain and Pablo Zabaleta was looking sluggish and leggy. Sterling turned Mangala inside out close to the by-line and crossed, but luckily for us, no one was there to convert.
Then in the 25th minute, City levelled in front of The Kop. Yaya found Silva in space with a perceptive low pass. Silva then Aguero who ran half way across Liverpool's box before playing a lovely reverse pass to wrong foot four Liverpool defenders, and Dzeko coolly slotted past Mignolet. It was clever movement by Dzeko to elude his marker and a brilliant top class through ball by Aguero.
Despite Zaba and Vinny starting to look a bit more certain as the game progressed, City's vulnerability continued and it could have been 2-1 to Liverpool before half time. Markovic chipped the square City defence and Lallana fired just wide from the angle. One has to wonder how well drilled City are. If we are going to play offside, then we have to practice it. Roberto Mancini might not have been every player's cup of tea, and is not as good a man manager as Pellegrini, but he built the best defence in the country. Defensive drills were regular and thorough. Everyone knew their role. If we are not going to practice enough under Pellegrini, then instead of just pushing up onto the edge of the box, trying to play offside, we should be marking up properly. Pellegrini's frequent changing of the back four does not help either, and it shows. How can we build a solid unit without having a settled line-up that actually practices together?
Coutinho was imperious, and he, Lallana and Sterling combined again to good effect, and Sterling's shot was easily saved but our defence was again passed like a knife through butter.
HT 1-1
City could have taken the lead early on after the break. Samir Nasri fed Pablo Zabaleta on the right and from the latter's cross, Aguero headed just over.
The dangerous Lallana had ball in net but Skrtel clearly fouled Dzeko in front of The Kop.
Kompany and Zabaleta improved in City's defence but we kept giving the ball away to Liverpool in midfield, which put increasing pressure on us. City were outnumbered in midfield by Liverpool's flexible 3-4-3 formation that would often become 3-6-1 when Coutinho and Lallana dropped back. Pellegrini withdrew an increasingly isolated Dzeko but even then we were out-manned by 6 to 5 across midfield. Even the normally reliable Yaya Toure was giving the ball away, though much of it but not all of it was down to Liverpool's high energy pressing game, and the fact that we were outnumbered in midfield. That all said we were even giving the ball away when there was no pressure on us. These problems were exacerbated further by the fact that we allowed gap between defece and the midfield which the Liverpool midfielders ran through to, often unchallenged. Still, Liverpool weren't creating clear cut chances, and it took a strike of the highest class to beat Joe Hart.
Sterling fed Coutinho who was given far too much room on our right by Nasri and Zabaleta to turn away and hit a powerful bending shot over Hart to the top corner. It was world class, but utterly gut-wrenching.
Again City tried to hit back. Silva's chip into the Liverpool box was not cleared properly and Aguero picked up the loose ball with a superb touch and wriggled clear but fired just wide of the left hand post.
Not that Liverpool were hanging on for dear life. They continued to press us into mistakes and Yaya was robbed by Henderson just outside our box and Sturridge fired just wide.
City had two decent chances to equalise. Yaya drove away powerfully from Allen and past another Liverpool defender to set up Silva who fired wide. Then in stoppage time Aguero exchanged passes with Silva but scuffed his shot well wide.
City managed just one shot on target all afternoon. Liverpool are a decent side, but there is no getting away from the fact that we underperformed. Too many of the players did not show enough desire but the main problem was Manuel Pellegrini's tactics again. After being outnumbered by 3 to 2 in central midfield once again, against Barcelona in midweek, Liverpool's flexible 3-4-3 formation allowed them to have 6 midfielders up against our 4 when the brilliant Coutinho and dangerous Lallana dropped back into midfield. City's 4-4-2 in contrast was inflexible. The way we are set up is deeply flawed in other ways and does not maximum our talents or do enough to nullify the opponents. Silva and Nasri were too far apart to work together often, given their wide starting positions. One of our strengths is those two playing together, and if they had been played in a 4-3-3/4-5-1 just behind Aguero they would have been able to resume that wonderful partnership, and work with Yaya Toure closely too. Pellegrini is not playing to our strengths and he is allowing the opposition to outnumber us in midfield too often.
Being 2nd is not a disaster in football terms. Many clubs and fans would envy our position. However, even allowing for perspective, City are no longer improving. Our standards have dropped markedly this season. We have a stale look about us, and need fresh legs, particularly in midfield. Why not give some of our young talent a chance? Furthermore, it is a pity that we were not in for players like Lallana in the summer. He was a very fine player for Southampton and there is every likelihood that he will be for Liverpool too. There are very good players out there and they do not have to cost north of £30m. We just have to look harder and be smarter.
Manuel Pellegrini is a thoroughly decent and very likeable gentleman who gave us a League winning season to remember in 2013/14, playing the most exciting football that we have ever seen from a City side. Sadly, however, this is not going to save him from the exit door if he does not win the League or progress further in the Champions League this season. Neither are looking likely. City are going backwards, and there are no signs that he is learning from the mistakes that he is making.
It was a miserable afternoon in which the City support provided the best moment, showing true support to our struggling captain with a chorus of:
"So here's to you Vincent Kompany, City loves you more than you will know…"
after he crunched into a tackle. Something is bothering him, we know not what, but at least he knows he has the love and support of the City faithful.
City have to remain focused and get back to winning ways, just in case Chelsea do slip up. Overall, though, we must learn from our mistakes and learn from others. That will make us stronger.
Ratings:
Hart: Cannot be faulted: 6
Zabaleta: Struggled early on but rallied and gave a strong performance in the 2nd half until he and Nasri gave Coutinho too much room to shoot for the winner: 6
Kompany: Nobody (at least outside the City dressing room) knows what is troubling Sir Vinny. His poise and reading of the game is affected by his current anxieties. A pattern is emerging: he is starting off nervously then improving during games. Nobody is undroppable, but he is worth persisting with and hopefully we will see his normal, assertive performances return: 5
Mangala: Turned inside easily by Coutinho, but did make some good covering interceptions: 6
Kolarov: Perversely is defending well whilst those around him are struggling. He proved difficult to pass, but did not offer much in attack: 7
Nasri: Largely anonymous. Along with Zaba, should have closed Coutinho down more to prevent the winner: 5
Yaya: His passing was uncharacteristically off beam too often, and he could have worked harder in midfield. Tried to get us back into the game at the end, teeing up Silva, but to no avail: 5
Fernandinho: His poor pass started off the trouble for us in the build up to Liverpool's opener. Outnumbered and his passing was not at his best either: 5
Silva: He was denied space by Allen and Henderson and that quietened him, but he slipped them to provide a crucial pass in the build up to our goal. Might have done better with his shot at the death: 6
Dzeko: Took his goal well, but was starved of service and offered little else: 6
Aguero: On another day he'd have bagged a brace: hit the inside of the post and headed one over. His pass to Dzeko was brilliant: 6
Subs:
Milner (for Dzeko 57): Unable to influence the game: 5
Bony (for Fernandinho 78): Unable to get into the game. If we're going to play 4-4-2 against Leicester then give him a chance, otherwise what's the point? n/a
Lampard (for Nasri 82): It is amazing that Pellegrini waited so long to introduce him. It was too late for him to get into the game: n/a
Best Oppo: Coutinho: Scored an even better winning goal than in last year's corresponding fixture and played even better. He was every, quick, decisive, intelligent, bright, inventive, world class. How long will it be before Barcelona and Real Madrid come knocking? 9
Refwatch: Clattenburg: Might have given us a penalty, but the influence of Anfield is perennial, not that is any excuse for our performance: 3
Phil Banerjee
Images: Richard Tucker