Manchester City – Sheffield Wednesday 7-0 Match report
|
Venue: Etihad, City of Manchester Stadium
Date: 24/09/2014 19:45 BST
Photos: Richard Tucker
A whirlwind of a second half performance by City blew away a Sheffield Wednesday side who came here in good form. With 5,400 noisy Wednesdayites making their way across the Pennines to The Etihad the follow their team, (and I travelled across from Derbyshire with a couple of them) the scene was set on a pleasant September evening.
With Silva, Nasri and Aguero all missing due to minor injuries which hopefully see them at Hull, we were missing a lot of creativity midfield, but Pellegrini still fielded a strong side with Yaya as captain.
First half
Yet this was a very tight game in the first half. With Wednesday well-drilled and pressing us all over the pitch, City found space hard to find and we had a tendency to move the ball too slowly. Chances were therefore at a premium. Wednesday had one in the 5th minute but the lackadaisical Madine failed to connect with a Maghoma cross.
In the first half particularly, we were reliant mainly on the pace of Jesus Navas and Bacary Sagna on the right. It was Sagna cut the ball back for James Milner who forced a save from Kirkland in the Wednesday goal. Mangala shot against the post from a Kolarov corner. Then Navas crossed and Dzeko's header was gathered by Kirkland.
Wednesday managed to do what reports suggest they have been doing well so far this season, pressing all over the pitch. City didn't manage to play at a tempo that would hurt them, and the Wednesday fans light-heartedly taunted us with "Premier League, you're 'avin a laugh". One or two City players might have remembered that. To be fair to the Wednesday fans, they also had a very impressive, loud rendition of "and it's HI-HO SHEFFIELD WEDNESDAY".
When you see the final score it is amazing that it was goalless at half time, because City's transformation in the second half was way too much even for a decent Championship side like the Owls.
Second half
Yaya skilfully found Milner on the right hanD edge of the box, and with a sway of the hips the City number 7 made his was to the by-line before crossing for Lampard to convert at the near post. And, yes, Lampard celebrated with some joy.
There followed three more goals in the next 13 minutes. Yaya again skilfully was involved, passing to Navas on the right nad the Spanish winger's cut back was swept home by Dzeko to make it 2-0.
Navas scored the best goal of the night when he cut inside the Wednesday box, turning Joe Mattock inside out before striking a rising drive, high into the left hand corner of the net.
Wednesday were reduced to ten men when Zayatte brought Lampard down in the box after a clever through ball presented the ex-Chelsea man with a goal scoring opportunity. Even though the panlty decision and red card were indisputable, the City crowd were beginning to feel a bit of sympathy for Wednesday by now and Zayatte was clapped from the field. Yaya Toure coolly converted the penalty, sending Kirkland the wrong way to make it 40 with an hour gone.
Those last 30 m inutes must have seemed like along time to Wednesdays defenders. Heir crowd to their credit kept singing "Wednesday will [they] die…"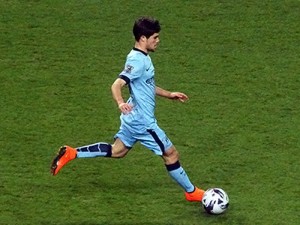 Yaya was replaced by debutant Jose Pozo, whom many of you will know, has been with us for a couple of years since joining us from Real Madrid. He was soon into action, and played a part in our 5th goal, timing his pass out to Kolarov perfectly and the Serbian left back teed up a perfect cross for Dzeko to head into the net. Pozo then scored his debut goal after he flicked a ball out to Navas with his right foot, and the City winger generously cut the ball back for him to clinically sweep into the net. The young Spaniard gleefully leapt into the air. The emergence of this young talent is one that has been keenly awaited for a while, and he certainly didn't disappoint. It was a particularly nice gesture for Navas to cut the ball back to him as he was perfectly capable of scoring from where he was situation.
It seemed like 6-0 was enough piunishment for Wednesday but City were much too professional for settling for a mere six! Lampard touched the ball off to Navas who drove forward on the inside left channel of midfield before feeding Kolarov on the left. Kolarov squared the ball back into the box, Navas dummied and Lampard fired home City's 7th. It was a fitting end to the match.
City had too much skill, power, pace, movement for a decent, workmanlike 2nd Division team. Fitness also played a key part. It was a very satisfying evening, though I did feel a bit of sympathy (but didn't show it!) for my Wednesdayite mates, who were very sporting, and didn't leave me behind.
Next page: Picture gallery and player ratings