Cracking the Code: How Manchester City F.C. managed to break into the Premier League Elite
|
Chapter 2: Introduction to the firm and its market
Manchester City FC was founded in 1894 and is an English professional football club that competes in four major competitions: The FA Premier League, The FA Cup (FAC), The Carabao League Cup (CLC) and the UEFA Champions League (UCL).
Premier League is an organisation owned by its 20 Member Clubs. It has responsibility for the competition, its Rule Book and the centralised broadcast and other commercial rights.
Clubs placed from 1 to 4 in the Premier League is qualified to play in the Champions League, while two more are eligible to play in the Europa League.
Manchester City has experienced two periods of continuous success since winning its first trophy in 1904: Between 1968 and 1976 they won 4 major trophies, including the UEFA Cup Winners' Cup, and between 2011 and 2021 they won 13 major trophies, including 5 Premier League titles (MCFC, 2021).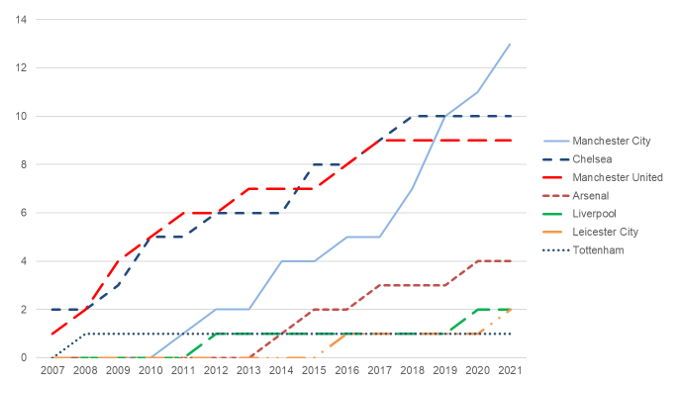 Figure 1: Aggregated domestic trophy wins by Premier League clubs between 2006 and 2021.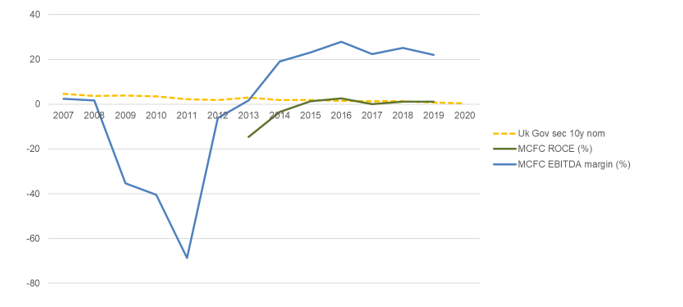 Figure 2: Manchester City EBITDA between 2007 and 2019 (Fame, 2021b) compared to average yield from British Government Securities – 10-year Nominal Par Yield (Bank of England, 2021).
Manchester City's profitability has also increased in this period (figure 2), although most of the profit from operations have been ploughed into investments in new players. This can be seen in figure 2, where the EBITDA has improved significantly, but as the money is spent on new players, the amortisation comes into effect when the ROCE margin is considered.
These investments have led to Manchester City's squad being rated as the most valuable in Europe (Statista, 2021c)
When the Abu Dhabi United Group took over the club in 2008 a period of change and heavy investment in training facilities and management followed. After 2012 qualifying for the Champions League quarter finals on a yearly basis has been an important contributor to a positive EBITDA margin.