Aston Villa – Manchester City 0-2 Matchview
|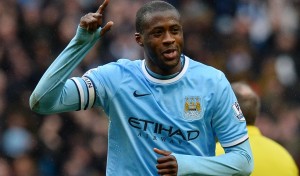 This win didn't really look as though it would happen. In spite of the Pellegrini's positive statements about the best game yet this season and his never doubting Touré, my analysis was more akin to that of Alan Shearer on Match of the Day  – we had a very good last ten minutes but the rest was not yet up to the standard we set last season.
Touré in particular was everyone's favourite (around me anyway) for being hauled off until he shot that delightful curled ball into the corner. Before that looked slow and indecisive as well misplacing passes just as too many City players did. Score a goal though and you are suddenly a hero and the press have treated him more kindly than perhaps his overall play deserved.
Villa have an interesting way of playing in that they seem happy to concede possession hoping for a quick counter attack which to be fair, nearly worked on a couple of occasions. That was why the possession statistics were so much in City's favour rather than us dominating play through control and accurate passing.
These judgements are based on what we know our team did last season but City still had 27 shots on goal with 7 or 8 on target so perhaps I'm being a bit harsh.
Silva is still our creative genius and although Aguero missed what for him was an easy chance, he was given another opportunity from which he scored his sixth of the season. He has the all-time record for goals per minute in the Premiership. Milner ran all over the pitch getting into good positions to receive as well as making excellent passes – another man of the Match performance from him. Mangala too had a good game showing no hangover from his nightmare at the KC Stadium. Joe Hart has long periods of inactivity but when called upon, made at least one crucial save – keeping your concentration in a dominating side is quite a skill and Joe usually manages it.
Of course, as is our tradition, we stood up in Villa Park, an all seater stadium. My guess is that there are many like me who would be quite happy to see the game from a seated position but the few who insist on standing cause the rest of us to stand otherwise we couldn't see the game. The stewards do nothing.  When City scored on 82 minutes a callow youth next to me felt it important to barge me out of the way so he could do his Silverback Gorilla imitation in the aisle. I was plunging headlong down the concrete steps when thankfully the bloke next to grabbed me and stopped my fall. Away fans are at once amongst the keenest, the loudest, most supportive of any club but they have amongst their number those whose direct descendency from Homo Australopithecus can hardly be questioned. His friend was profuse in his apologies but admitted "he's a bit like that" – in other words forgive him he's a City mad fruitcake.

Loading ...