The golden age of Manchester City
The new Millennium
In part one of this article, I talked of the beginning of the wilderness years that saw City sinking lower and lower until the salvation of the Division Two Play-off final. In part two, I chart the bumpy road back to success and the end of a 35-year jinx.
That "unbelievable" Lazarus act against Gillingham was not the end of the turbulent years. Joe Royle gave us a proper roller-coaster ride up and down the leagues, following up that Wembley triumph with an immediate and unexpected return to the Premier League. The victory that sealed promotion from Division One, at Blackburn on the final day of the season with the grassy knoll army in attendance, is the stuff of legend. Maddeningly, we went straight back down again the next season. "Blue Moon, you got promoted too soon", we were told.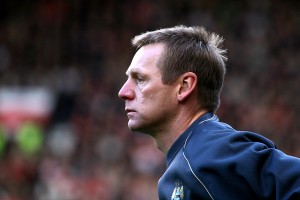 The 2001/02 Division One promotion season under Kevin Keegan was probably the highlight of that era. For the first time in memory, we got to experience what United fans must feel like, wondering how many we were going to win by today, as we walked up to Maine Road with a spring in our steps. The rest of the time, we could only look disdainfully over the City boundary into Stretford to see the Evil Empire relentlessly grinding its way to success. Wistful dreams of jumping on the runaway Champions' League gravy train were all we had to comfort us. In truth, it was accelerating over the horizon and we had no hope of catching it or United.
By the mid-2000's, City had established some stability under the stewardships of Chairmen David Bernstein and then John Wardle; Bernstein in particular was a creditable steward. The club had carved out a Premiership niche, finishing mid-to-lower table with a few relegation scares and quick sorties into Europe, but nothing too vexing or memorable. Most of the time it was a tad dull – especially under Stuart Pearce – however I think we mostly welcomed an oasis of calm after the turmoil of the previous years.
There was one unforgettable match – a fourth round FA Cup tie at White Hart Lane under Keegan in early 2004. City were trailing 3-0 at half-time, with Nicolas Anelka off injured and down to ten men after Joey Barton's needless sending-off. Some of my friends still thank me to this day for my advice to "give it ten minutes in the second half and see what happens". If they had left, they would have missed the greatest FA Cup comeback of all time, as City turned it around to win 3-4. Of course we lost the next leg to United but, on one of my rare visits to the Swamp, at least I got the pleasure of seeing Gary Neville sent off for a head-butt on Steve McManaman.
The move away from Moss Side to the new stadium in East Manchester was the key to where we are today. Some traditionalists understandably did not want the move. For most, however, the gift of a brand new stadium was impossible to refuse. We had no money to build our own anyway. I personally felt we had tormented the hallowed ground of Maine Road enough and a clean break was needed from the ghosts – some say curses – of the past. That said, I was going to miss the post-match curries in Rusholme.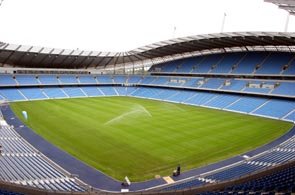 The cornerstone for the new City of Manchester Stadium – to be used in the Commonwealth Games of 2002 and then handed on to us as tenants – was laid by none other than Tony Blair. Another despot, Thaksin Shinawatra, was the prime mover in the next chapter of our recent history and, as our new owner, he would prove to be both hero and villain. Thaksin came seeking redemption from his woes in Thailand by attempting to establish a friendly public persona in the U.K. City fans welcomed him, despite his dubious provenance, as we were desperate for investment and success. Another ex-England manager Sven Goran-Eriksson was established in the'ejector seat' and a happy sequence of results against the Rags ensued.
Of course the silverware drought continued and the relationship with Sven and the fans soured as Thaksin meddled and much money was wasted. By the end, Thaksin's funds were frozen in Thailand and he was effectively on the lam. Once again the club had no money and another crisis was looming.
As an aside, I will never forgive Shinawatra or anyone at the club for signing Jo. I hope my typing of that name does not cause too many swearword filters to activate and block MCIVTA from peoples' mailboxes again. The only explanation I can imagine – for paying £18 million for the worst player I have ever seen in a City shirt – is that Thaksin was in hock to some dodgy Russians and this was his debt repayment. Jo was not worth 18 pence never mind £18 million.
Regardless of what happened under his stewardship, the Thai was the one with the contacts that snared the attention of Sheikh Mansour, when Abu Dhabi came looking for a Premiership club to invest in. The new stadium was our key selling point against potential rival suitors like Everton, who are bitter to this day that we won the lottery, not them. Without Eastlands, it is unlikely we would ever have seen our Arab Autumn.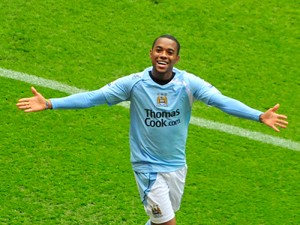 Monday 1st September 2008 must rank up there with the Wembley recovery nine years previous, as a key date in City's history. No-one could believe that our club had been bought by some of the richest people on the planet and then, within hours, we were splashing millions on Robinho and almost stealing Dimitar Berbatov's signature from under the noses of United. It was like waking up in one of those alternate universe realities found in trashy sci-fi TV dramas.
Add to this the background of an ongoing global financial market collapse and these were strange days indeed. If you have a spare hour or two, you can still relive the giddy otherworldliness on the BBC live text feed from that day here: http://news.bbc.co.uk/sport1/hi/football/7590492.stm
Since the takeover, the club has been like a snake shedding skins. We started with an outer layer of mercenary attacking players brought in to protect a developing inner core of potentially excellent defensive players. This constantly evolving outer layer has been needed to help push us up to the Champions' League spots and win our first trophy in almost two generations. There is one man who has brought the process to its culmination – Roberto Mancini.
Before praising Bert, I think we need to recognise we took a bit of a diversion off the road to success by sticking with Mark Hughes as long as we did. I was never his biggest fan from the off, retaining a childhood dislike of him from his playing years at United. Whilst not campaigning for his removal like some did, I was happy to see him go. Yes the manner of his departure was handled very badly by the club yet the bottom line is that he was not good enough to take us where we wanted to be.
To be fair to Hughes, he did bring in some very good players such as Vincent Kompany and Nigel de Jong. His track record elsewhere was poor though. For me, anyone who spends £17.5 million on a one-season-wonder perma-crock like Roque Santa Cruz simply is not fit to handle big money.
Garry Cook, for one, knew this. There is an apocryphal story that says the decision was made to replace Hughes as the pair flew back from an abortive attempt to sign Italian goalkeeper Gianluigi Buffon. Hughes said he was glad not to have signed someone who would have been a disruption in the dressing room because of his massive wages. With Joe Hart's subsequent emergence as England's number one, it has been proved to be the right decision but, from then on, Hughes' card was marked as the wrong person to manage the Sheikh's petrodollars.
Under Roberto Mancini, we have spent much more wisely and most definitely grown and prospered. Many say we were far too defensively minded in his first year in charge. This does not acknowledge the team building that was underway. A key result for me was the 0-0 at Arsenal a few days into this calendar year. We were castigated something proper by the press and pundits and the world and his wife for that negative showing. "All that money and that's how you play?" they cried.
Yet I left the Emirates that night with a great big grin on my face. I knew we'd just taken a massive step along the road to having a fighting spirit in the defensive unit that would stand us well in the future. I tried to explain this to non-City fans at the time but no-one would have it. It was a touchstone result and it was where I first heard the "boring, boring City!" chant, as we cheekily co-opted it off the Arsenal fans.
Roberto Mancini knew exactly what he was doing then and is having the last laugh right now. If we had lost that game in some gallant but futile fashion then, all other things being equal, we would have finished fourth behind Arsenal. We would have had to qualify for the Champions' League and, maybe, we might not have been able to sign Sergio Agüero at the time we did. As a result, this season could have run a very different course. One can even argue that we would have lacked the defensive discipline to withstand United's early assault on our goal in the recent derby.

A few short months after that Arsenal game, those tears I talked of before returned, except these were tears of joy. Two glorious Yaya Touré goals spread over two Wembley games won us our first real piece of silverware in 35 years. First we deservedly beat United in the semi, which laid many demons to rest and is seen as a watershed result by many. Then, after one of the lustier renditions of 'Abide With Me' in North London's history, we powered past a subdued Stoke in the final.
The first time I saw Yaya play for City, I prophetically thought to myself: "this boy could be the one to win us something". Then he put in a few unconvincing performances over the winter of last season and I started to doubt my prediction. I was mad to do so. He can still be a lazy so-and-so from time to time but he is a key player for us and a proven winner. I will forgive him the odd"will this do?" performance, for breaking that hoodoo and winning us a pot.
That 35-year ticker banner could now finally be consigned to the dustbin. The blue boys were back in business.