Manchester City 1 MUFC 0 Match View 2.11.2014
|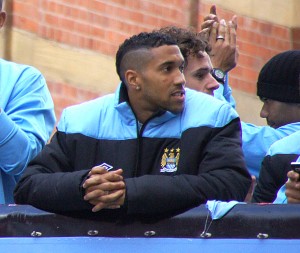 It wasn't difficult predicting that the fish and chips from Tony's would be good today but they had four people frying and even ten serving which is surely some kind of record. Nor was it tricky to expect nervousness from most City fans when playing the Rags after such a poor match last Wednesday but I also foresaw that there would be a sending off.  So when Smalling trudged down the tunnel after 38 minutes that probably had the major influence on the outcome of the game.
Overall we witnessed two out-of-form teams playing with energy and determination each dishing out dodgy tackles with much for the referee to do to keep control. United started the brighter of the two sides but soon City, even without Silva, started to pile the pressure on to a famously average United defence. Such is our lack of goal scoring form we couldn't convert anything and the most significant incident was Smalling's second yellow card which meant he was sent off in the first half. Much has been made about the careless tackle which forced the ref to give a second yellow but the real daftness was trying to obstruct the keeper Joe Hart when he was kicking the ball out for his first yellow.  Surely everyone knows you can't do that these days. Everyone knows that if you do then it's a yellow. So arguably he deserved to be sent off for chronic stupidity as much as anything.
In the second half City took control and Touré produced his one great piece of play when he sent a diagonal ball just a few inches beyond the outstretched leg of a United defender into the path of the oncoming Clichy whose cross was met by an instant Sergio first time shot into the net. That was the one moment of true quality in an otherwise tense game dominated by errors, badly timed tackles and mistakenly directed passes from both sides.
City had three possible penalty shouts but as people round me were arguing about whether referee Michael Oliver should have seen them I was reminded of Rodney Marsh's pre match comments when he suggested that Oliver "ducks big decisions". He certainly seemed to do that today.
Late in the game Pellegrini made tactical changes and brought off Milner, Aguero and Jovetic replacing them with Nasri, Dzeko and Fernandinho. This took all the aggression and pace out of our front players and United started to dominate the last fifteen minutes. United had clear chances to equalise but failed and after five minutes of injury time we were all relieved to hear the whistle. Injury time was long because of Rojo's shoulder dislocation which will keep him out for a few weeks. The poor lad had to be given gas and air on the pitch and was carried off on a stretcher.
Other points: Rooney made one very good run abut was mostly a shadow of his former self, Di Maria was kept fairly quiet but showed occasional flashes of brilliance and Clichy who wasn't actually selected for this game but was drafted in to replace Kolarov injured in the warm-up, was my man-of-the-match. They gave it to Aguero of course but both Clichy and Milner played very well.
So that's four wins in a row against United and I vaguely remember the last four too which were in the 1970s.       Our relatively poor form continues but we are still third in the table while United, now tenth, have confirmed their worst start since 1986 after which Fergie was summoned from Aberdeen to take over. Perhaps the most embarrassing statistic is that David Moyes had not only gained more points after ten games last season, but his team had scored more goals, conceded fewer, won five matches and cost far, far less. Today's United team was the most expensive yet fielded for a Premiership match costing £241.3 million. So much for the club which prides itself on bringing most of its players into the first team via the youth side.
Next for us in the league, after the CSKA match on Wednesday, is QPR away in the evening kick off next Saturday while United entertain Crystal Palace with no centre backs available.