Where are they now?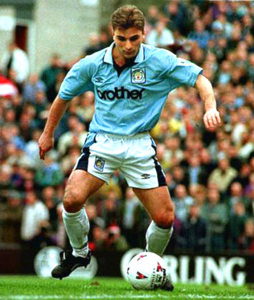 BIO
Born: July 6th, 1973
Birthplace: Tbilisi
Nationality: Georgia, 57 games / 9 goals
Height: 173 cm
Position: Attacking midfielder
Born in Tbilisi, Georgia, part of the former Soviet Union located in southwestern Asia bordering the Black Sea between Turkey and Russia. At school Gio had only two interests, history and football, with football holding the larger share of his attention, no doubt because of his father's influence in having him playing for Dynamo Tbilisi's junior side when he was only eight years old. His mother wanted young Gio to have other influences as well and introduced him to mtiuluri, a traditional Georgian ballet. The combination of football and ballet was part of the reason why Gio developed a unique balance and movement with the ball at his feet.
In 1991 Georgia became an independent state again, but independence brought civil war as rival factions fought for control. Because of the hostilities, the Tbilisi management sought to put their players in a more stable environment and Kinkladze, with two others, was sent on loan to Saarbrucken in Germany.
None of the Georgians were able to settle into the side at Saarbrucken, partly because of the over competitive, and sometimes aggressive attitude of the German players towards those from the East. Following Saarbrucken's relegation and the political situation in Georgia having stabilised, Kinkladze returned to Tbilisi. By now he was a regular in the Georgian national side, and in 1993/4 he was the national Player of the Year. After a season at Tbilisi, Kinkladze was offered to Athletico Madrid (April 1994) for approximately £200,000; they gave him a trial but no contract. However, Gio had caught the eye of one Diego Maradona, who had him on trial at Boca Juniors in Argentina for a month. Had Kinkladze taken a liking to life in that part of the world, he could have been there today; he didn't, so he returned to Georgia once more.
In September 1994, in the run up to Euro'96, the Georgian national side played Moldova in Tbilisi. This match took place largely unnoticed, but Francis Lee saw a video recording and was so taken by the skills of Kinkladze that he contacted Tbilisi President Merad Jordania, eventually securing an undertaking that Manchester City would have first refusal should Georgiou become available.
Two months later Georgia thrashed Wales 5-0, and at the return match at Cardiff Arms Park, City scouts Jimmy Frizzell and Colin Bell saw Kinkladze's now famous goal, lifting the ball with a well controlled chip over Southall from 20 yards.
In his last season with Dinamo, Kinkladze scored 14 goals in 20 outings and attracted the attention of some world class clubs including AC Milan. It seems that the Italian scouts were so excited with his ability they gave him the nickname "Rivera of the Black Sea". However, when it came to it, Merad Jordania was as good as his word and Kinkladze was offered to City and the pair flew into Manchester to finalise a 3 year deal; Alan Ball's first signing for City, the fee somewhere in the region of £2 million. After initial difficulties obtaining a work permit, Georgiou played his first match for the Blues at Maine Road against Spurs on 19th August 1995.
During the 1995/96 season he quickly became the fans' favourite; though having no understanding of English, his displays of skill and ball control show something not seen for an awful long time at Maine Road. His ability and panache even caught the eye of opposing fans, the Middlesbrough fans voted Gio the "Best Opposing Player of the Season" and his goal against Southampton in March 1996 will be forever in the memories of those lucky enough to have witnessed it.
Despite the remarkable skills of Kinkladze, City were relegated to the Nationwide 1st Division and many were afraid that he would be tempted away from City. That wasn't the case however, Gio pledged to stay at Maine Road for at least one more season.
Another relegation for City, this time to the Second Division, resulted in Gio leaving for Dutch club Ajax. Before that, he learned that he had no place in new manager Joe Royle's plans for the club and it soon became clear that going to Ajax would be the best thing for his career. It transpired that, shortly after taking over the reins, Royle had met with the City board and told them that the club had to sell the Georgian. He could see no way of accommodating Kinkladze in any formation and at any rate the player appeared determined to no longer make a meaningful effort in matches or during training. Shortly after the season ended, City sold Georgiou Kinkladze to Ajax of Amsterdam for a club record fee of £5m. By now even the supporters had accepted it was the right thing to do, although a year before they'd begged the same player to sign a new deal and remain with the Blues
However Gio's spell at Ajax quickly turned sour after he was told to play out of position on the left wing. Gio was eventually dropped after just 12 appearances for Ajax and he joined Derby County on loan before a permanent move to the midlands club came about the following season. Kinkladze started to play better at Derby and was the supporters player of the year in the 2002-2003 season. The following year Derby offered Gio a new contract but on considerably lower wages, so he decided to leave the club. He was later linked with moves to Scottish Clubs Dundee, Celtic and later Leeds United, but nothing came of it. He eventually did get a contract with Cypriot team Anorthosis Famagusta where he linked up with his fellow countryman and Player Coach Temuri Ketsbaia.
At a club which became infamous for lurching between the sublime and the ridiculous in equal measure, Kinkladze was the perfect player to sum up the club as he eventually delighted and frustrated City fans in equal measure. He showed his ability and talismanic importance at a time when City had few (if any) gifted players on their books, and the rags were collecting trophies at a rate of knots. It was nice, even for a short while, to finally have a player whom supporters of rival clubs would covet, especially when the same player shrugged off suggestions he might leave by declaring that his only interest was to win matches for City. His unforgettable solo goal against Southampton has been acknowledged as arguably the best-ever goal scored by a City player and seeing Gio at his very best will live long in the memory. At the "Parade of Legends" before the last City match at Maine Road, Gio repeated his statement from years before that "City is the one club dearest to my heart and wherever I go I'll always love and be grateful to the City fans for the support they gave me".
Career details
| Season | Club | LEA | LEG | FCA | FCG | LCA | LCG | TOTA | TOTG |
| --- | --- | --- | --- | --- | --- | --- | --- | --- | --- |
| Total | | 348 | 72 | 12 | 3 | 10 | 1 | 370 | 76 |
| 1990-92 | Mretebi Tblisi | 80 | 18 | 0 | 0 | 0 | 0 | 80 | 18 |
| 1992-95 | Dinamo Tblisi | 44 | 27 | 0 | 0 | 0 | 0 | 44 | 27 |
| 1993-94 | Saarbrucken (L) | 11 | 0 | 0 | 0 | 0 | 0 | 11 | 0 |
| 1994 | Boca Junior (L) | 3 | 0 | 0 | 0 | 0 | 0 | 3 | 0 |
| 1995-96 | Manchester City | 37 | 4 | 2 | 1 | 2 | 0 | 41 | 5 |
| 1996-97 | Manchester City | 39 | 12 | 3 | 1 | 1 | 0 | 43 | 13 |
| 1997-98 | Manchester City | 30 | 4 | 4 | 1 | 3 | 0 | 37 | 5 |
| 1998-00 | Ajax | 12 | 0 | 0 | 0 | 0 | 0 | 12 | 0 |
| 1999-03 | Derby County | 93 | 7 | 3 | 0 | 4 | 1 | 100 | 8 |
| 2004-06 | Anorthosis | 22 | 2 | 0 | 0 | 0 | 0 | 22 | 2 |
| 2005-06 | Rubin Kazan | 13 | 2 | 0 | 0 | 0 | 0 | 13 | 2 |
After his playing days Gio has been working in Russia as a Players agent specialising on the Premier League.