Preview: Manchester City vs Manchester United 2.11.2014
|
At the beginning of this season I couldn't wait for the derby. United's defence was abject and they demonstrated a glorious and hugely entertaining spirit of utter confusion as a result of new ideas from a very confident new manager. How things change. United made an excellent recent show against Chelsea although some say they were a little lucky to earn a draw scoring in the dying seconds of the game – but then we've won titles doing exactly that.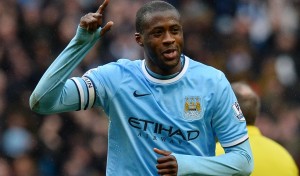 Now our defence looks flaky, our midfield is likely to be without David Silva and our free scoring forwards can't score. Rooney will be back for United and Carrick looks ready for an outing too so United have choices to make while we might have to use the recently recovered Nasri as our only genuine playmaker. Touré is due a good match but I keep thinking that every game and he still hasn't hit the heights of last season. Still Hart, Kompany and Zabaleta will be back and while they are famous for their accomplishments in their respective positions as keeper, centre back and full back their other big attribute is heart and determination. These qualities may be the key factor on derby day.
I still maintain that United's defence is not that good and should be able to be breached by an on form City attack. If only I could be sure about the form bit. As is entirely predictable, the papers (including ex City player Rodney Marsh) are ready to sack Pellegrini for a couple of defeats and should we fall behind Chelsea even further then that would certainly be the end of our Premiership chances they insist. Well they have to create copy and extrapolation from a 10 game season to a 38 game finish is easy when you have a license to exaggerate and a talent for fiction. It would be worth reminding these experts that the first time we won the Premiership we were eight points behind United with six games to go and yet we won it on goal difference. United, the team that always finishes strongly and knows how to win titles, collapsed unpredictably. It happens in football. The awful truth for these newspaper pundits, one of which is the execrable Paul Scholes, has been explained by none other than Fergie who reckoned United only got going around the turn of the year and quite often started a season in which they won the title very slowly. Headlines of "What's wrong with United" were common in September and October but had always disappeared by February.
So here's the truth. This game matters because it's a derby and we like to beat United. They and their hordes of arrogant fans just deserve it so much. But as far as the Premiership race is concerned it isn't as important as people might say. It's simply far too early in the campaign.
One interesting fact though. Since we came back into the Premiership United have been the dominant force even though they have slipped in recent months. They have beaten most teams many more times than those teams have beaten them. The exception has been Chelsea who during that period of time won more games than United. So who is the next bogey team for United? Is Liverpool? Arsenal? Or perhaps even Spurs?

Nope it's City and should we do the double this year we would join Chelsea as having beaten United at least as many times than they have beaten us – we are ahead in Premiership results since we were promoted but United have beaten us more times in the Cups and Charity shield.
My prediction: the fish chips will be good again, I'll be very nervous and someone will be sent off.