WHAT'S THE NAME OF THE GAME
|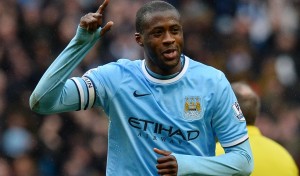 WHAT'S THE NAME OF THE GAME?
City still have not won a Premier League game without Yaya Toure this season, and we have really missed his poise, all round quality, and match winning ability in his absence this January.
Yet, many Blues would happily see the back of Yaya. Last Summer's poor behaviour and/or his perceived lack of interest at times have understandably caused irritation, but despite that, in common with many others, I'm glad that he stayed. His behaviour last Summer was most likely motivated by a desire for a new contract, whether it was here or elsewhere. There are some days when he doesn't look interested (both for City and the Cote D'Voire), but we haven't really had one of those at City since he got sent off at home to CSKA Moscow. He has played very well for City after a slow start to the season, which is understandable, considering he was coming to terms with the death of his brother.
There has, though, been a recent spot of ambiguous behaviour from Yaya. After leaving for the African Cup of Nations, he has said that he does not know where he will be next season. Again, he is probably looking for that last big pay day, and given the politics of the Gulf, the Qataris who own Paris St Germain would not be averse to putting one over their counterparts in the United Arab Emirates by signing perhaps our most influential player. However, he is under contract to City until 2017.
Still, it would be no surprise if his agent Dmitri Seluk and/or Yaya make more noises this Summer about being unhappy/disrespected/lacking an iced bun or would love to play for PSG et al.
Some might say Yaya is the epitome of a football mercenary. That may be true, but they are doing him a disservice. Is it fair to expect loyalty from a footballer, who like any person in any line of work, will generally get the best deal for themselves? Is it realistic to expect all our players to love City as well as play with passion as well as quality like, say, Zaba or Sir Vincent do?
Still, he remains an enigma. When he does behave like he did last Summer, if I could borrow from a popular Swedish pop combo in days of yore, I'd love to sit down with him and ask:
What's the name of the game, does it mean anything to you?
Maybe Yaya cares more than he lets on – when he takes the game by the scruff of the neck, he certainly looks like he does. The way he played at Selhurst Park last season and the way he flung his arms in celebration after his goal suggested that he did. He has won too many games for City with his brilliance, giving us some of our best memories of following this dear club, to be dismissed: scoring the winners to defeat United and Stoke at Wembley in 2011; his goals in the crucial win at Newcastle in the 2011/12 title win; his stunner to turn round the League Cup Final last season and many, many others in the League last season when he scored 24 goals in all competitions including 20 in the League. Yaya may be a gun for hire by the highest bidder, but he has made such a great impression on our history, won so many matches, and been such a big contributor on the way to four trophies in the five years he has been here. He may win many more matches.
Whilst Yaya is 31 years old, and possibly slightly past his best, making less of those trademark lung-bursting runs, he is still good enough to win games for us, having bagged 9 goals in all competitions (7 of them in the League) this season, as well as his assists. Not only has he got an eye for goal and legendary shooting ability, he enhances the way City play and is a good influence in the dressing room, rather than a disruptive one. You only have to watch how the players respond to him on the pitch to see how well respected he is. Several are better for his presence. A lot is made of Yaya not tracking back enough but this can be accommodated. His desire not to be beaten in midfield – time after time he has used his strength and desire to retain the ball when many other players would have lost it – cannot be overlooked. Overall, the positives far outweigh the negatives. A total of 61 goals in 209 appearances for City overall (45 in 152 League appearances) is outstanding and speaks volumes.
For those reasons, he is worth keeping, and that is why I am glad he is in our team. Yaya's presence doesn't prevent us from seeking out his successor, and the name of Paul Pogba keeps cropping up, and with good reason. Indeed, we should be looking for his successor, possibly even bringing him alongside Yaya initially. It could be that successor may not be quite the same kind of player, and City's team has a different shape and/or way of playing. When that day comes, his replacement will have very hard act to follow.
Phil Banerjee
phil.banerjee AT orange.net
Images: Richard Tucker