"I said maybe
you're gonna be the one that saves me
And after all,
You're my Alan Ball…"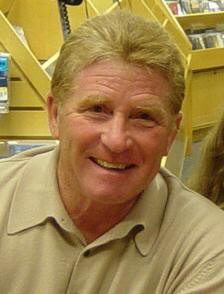 We City fans were remarkably tolerant of the managerial disaster that was Alan Ball. After taking over in 1995, he proclaimed he was going to "clear the drains", ie reduce the wage bill, which meant getting rid of our better players. I wasn't alone in fearing the worst and he got rid of a very decent hard working player in Paul Walsh – who had been important in setting up goals for others, particularly Uwe Rosler, and scoring a few himself – and replaced him with Gerry Creaney who was over weight, slow and nowhere near as good. Ball's abrasive style didn't go down well with the players and his tactics muddled them, and presided over an appalling start (one barely deserved draw against Tottenham followed by eight straight defeats in the League – eight of the first ten matches lost with no wins), from which we never recovered.
Despite showing mid-table form after that we were always playing catch up and our fate was left to the last day of the season against a Liverpool side who were clearly not interested in winning – probably due to the fact that they had an FA Cup Final a week later. Haplessly, though, City went 0-2 down with a cross going in off Steve Lomas and Ian Rush almost apologetically scoring the 2nd. City fought back through Uwe Rosler and Kit Symons. With the scores at 2-2, and the clock ticking away, Ball compounded his folly by telling Steve Lomas to waste time by taking the ball to the corner flag after hearing some erroneous information that we only needed a draw with results supposedly going favourably elsewhere, ie that Coventry were losing. Ball was misinformed (Coventry were not losiing!). Despite the substituted Niall Quinn rushing down the touch line and correcting Lomas, it was too late and the draw saw City go down on goal difference.
It was numbing. Sickening. A shattering blow. I drove home to where I was living in Sheffield, ate the pizza I'd ordered and went to bed. I know there are more important things in life, (and people have seen their club's go out of business), but I was depressed about it for at least a month.
So when I hear Wonderwall, I think of that season, and us stoically singing our version of it, particularly at away matches. Ball was a disaster for City, but we should have seen it coming (he'd been associated with no less than four previous relegations as a manager or coach). Amazingly he kept his job (whilst quality players like Curle, Coton, Quinn amongst others were sold), but it took a 1-2 defeat at Stoke three games into the next season, and the whole ground chanting "We want Ball out" (he'd previously managed to get the Potteries club relegated despite spending a fortune there), before he was finally sacked.
Horrible times to be a City fan and it was to get even worse…
Times that make me all the more grateful for what we have now….