Manchester City – Fulham 5-0 Match Report
|
Venue: Etihad, City of Manchester Stadium
Date: 22/03/2014 15:00 GMT
Photos: Richard Tucker
Yaya Touré completed a hat trick with yet another world class strike as Manchester City blew struggling Fulham away to maintain our title challenge.
First half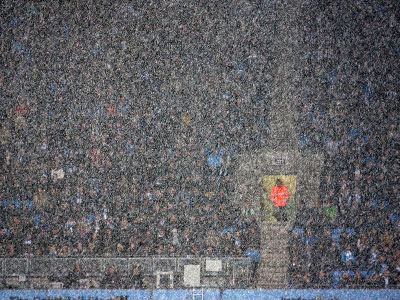 The win was not quite as easy as the scoreline suggests as Fulham started off like they meant business. They came out of the blocks like sprinters, pressing far up the pitch but quickly found themselves falling back into massed defence as City dominated possession. That we didn't break them down for 26 minutes owed as much to a lack of speed in our passing as to Fulham's organisation early on in this match. Milner did sting Stockdale's gloves early on after a Kolarov cross was half cleared to him, but we weren't quite flowing in the first quarter of the game. Fulham went close themselves when we failed to clear our lines after a shot and Richardson fired just wide of Joe Hart's left hand post.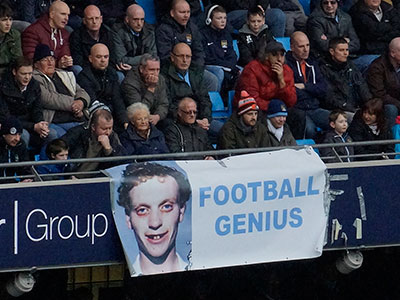 A change of pace and a long pass forward eventually led to City breaking the deadlock in the 26th minute. Silva played a ball out to Milner and Negredo ran onto the City number 7's lofted pass, only to be bundled over by Amorebieta. Referee Moss pointed to the spot after a little deliberation. Yaya coolly slotted the ball home, to Stockdale's right, to give us the lead.
Fulham could have equalised 7 minutes later after Zabaleta lost out on our right but Riether fired wide from a cross in the 33rd minute. Then, 4 minutes later, persistence from Fernandinho played in Silva who lofted a goal-bound shot, with Stockdale stranded. The Etihad got ready to cheer but a Fulham defender headed the ball off the line. Amorebieta headed wide from a corner three minutes later and it was to be the last time Fulham seriously threatened City's goal, as City turned up the heat. Kolarov ran onto a Milner pass and smote the bar with his powerful, angled drive.
City may have fielded just one striker in this game, but it was a very attacking line up with Nasri and Silva taking turns to play either just off the front or on the left. It gave Fulham plenty to think about, and never allowed their defence to settle. They were intelligent tactics for intelligent players.
Second half
City certainly upped the tempo after the break, and Fulham were swept aside with ease. The game was effectively over as a contest in the 54th minute.
Clever interplay and quick passing saw Silva run onto Milner's cute back heel from Fernandinho's clever pass, only to be sent flying by Amorebieta's mistimed challenge in the box. It was the clear denial of a goal scoring opportunity and referee Moss showed no hesitation in awarding the penalty and a red card. Yaya repeated his clinical penalty, sending Stockdale the wrong way.
Lovely interplay between Silva and Nasri at a corner teed up Milner but he shot just wide of the right hand post just after the hour. Excellent pressing by Fernandinho and Zabaleta allowed Kolarov an opportunity to shoot from distance, but his shot was wide. By now our high pressing game was giving Fulham a real working over.
Then in the 65th minute we had the pinnacle of this game when Yaya scored the most beautiful goal, to complete his hat trick. Receiving the ball from Nasri 25 yards out, in space, he curled out a beautiful shot which gave the Fulham goalkeeper no chance whatsoever. It showed great technique to make the ball arc outwards and back just inside the post. Supreme skill from a master craftsman whose precision passing and poise was one of the finer points of the afternoon. The standing ovation that he received (and reciprocated) from an appreciative Etihad was well earned.

City were rampant as Fulham melted away. A slick one-two between Milner and Negredo saw the Yorkshireman's shot deflected wide by a defender. Then Demichelis's header from Nasri's superb corner forced a goal line clearing header. With Chelsea having despatched Arsenal 6-0 at lunch time, it was important for City to keep scoring.
Pellegrini took the opportunity to save up Yaya and then Silva and Nasri for Tuesday's game in Trafford, but this didn't stop City turning up the heat and scoring more goals, which might prove vital at the end of the season.
Yaya's scorching strike was the most spectacular goal on this showery afternoon in Manchester, but it wasn't the only one as Fernandinho joined in. Milner astutely cut a corner back to Fernandinho who showed a good turn of pace to run round the left hand side of the Fulham defence (very much in the style of Agüero), and hit a terrific, powerful rising drive in to the roof of the net to make it 4-0. It was great strike from a player who is now important cog in the City machine. More clever combination play between Milner and sub Rodwell saw the City number 7 force a full stretch save from Stockdale, but it was only a momentary respite for the visitors. With Fulham penned back after yet another City corner, Fernandinho slid an intelligent pass for sub Jovetic to cross from the right hand bye-line and via at least one deflection, there was Demichelis at the back post to steer the ball in.
Milner showed some dazzling skills to Cruyff-turn and trick his way along the left hand bye-line and cross. Sidwell mis-controlled it and tried a strange header from on his knees back to the 'keeper but it lacked power. Negredo pounced but from four yards he somehow stabbed the ball a hair's breadth wide of the goal. "BEEEEEEAST" went our chant in support of the crestfallen City number 9 who just can't seem to score at the moment, having gone 12 games without a goal. Hopefully, like Dzeko, he will find that he is getting closer and will net next time.
City won this match comfortably and played some wonderful football, but we didn't have to be at anywhere near our best to beat a team who, sadly, look like they are going down after 12 seasons in the top flight.
Yet again there was so much to enjoy in this match. Great skills and great goals to savour as well as commitment to the pressing game that Pellegrini wants to play. Every midfielder dazzled in a game where everyone contributed. The spirit is good, every goal is celebrated collectively and there is a universal desire to succeed. No one is getting carried away though. Every game is important.
Our next game is our most important game, no matter who it is, and we need to win it. We have a far better team than United's, but we have to apply ourselves in Trafford and be at our best as they will give it their all. If we match or better their effort then, with our superior football, we should win.
Photo Gallery and Performances on next page: