Manchester City 2 Burnley 2 Match Report
|
Frustratingly, City missed the chance to gain two points on Chelsea, as we threw away a two goal lead to relegation threatened Burnley.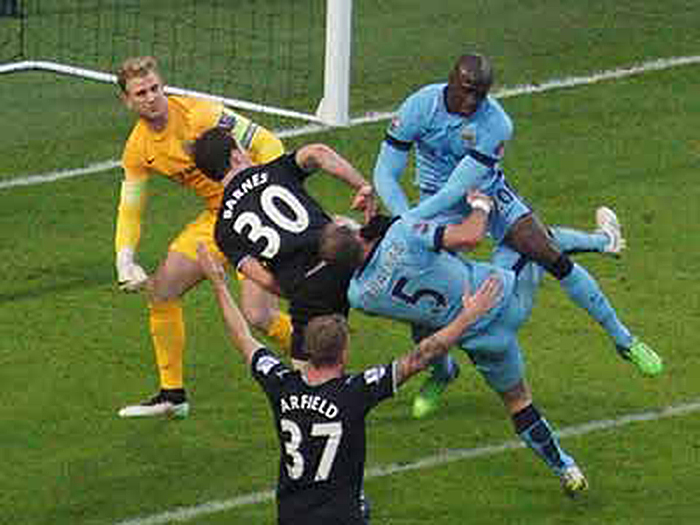 With Silva in imperious form and Nasri pulling the strings in midfield to good effect, City were dominant in the first half and well taken goals from Silva and Fernandinho seemed to put us on our way to victory, deservedly leading 2-0 at the break. Indeed it could have been more had we been more direct rather than trying to walk the ball in.
However a controversial early second half Burnley goal which went in on off the offside Boyd turned the direction of the game. For all Milner's endeavour and the running of his replacement Jovetic, City finally suffered for not having a recognised striker. We were not able to maintain possession for long enough to create any sustained pressure and spirited Burnley exerted more and more of a threat and their equaliser looked more and more likely.
There was no surprise but obvious disappointment when Barnes' inevitable equaliser came fifteen minutes from the end. The referee messed up for Burnley's opener and may have fallen for Barnes backing into defenders all afternoon as well as making a lot of mistakes, but there is no denying that Burnley deserved their hard-earned draw.
For City it is a small setback and an opportunity missed but that is the nature of a long season. City's squad size has been artificially and unfairly restricted leaving us light up front, but Manuel Pellegrini and his squad can take credit for our nine straight wins, especially given the lack of strikers of late. How they respond to this minor setback is important and three points against Sunderland are vital.
Goals:
City: Silva 23, Fernandinho 33
Burnley: Boyd 47, Barnes 81.
Att: 45,608
Ratings:
Hart: His kicking was woeful. The ball went under him for Burnley's opener but he cannot be blamed as the ball took a late deflection: 5
Zabaleta: Some excellent covering tackles, and his blood was shed yet again. He was down for a long time after getting flattened. Hopefully there are no ill effects from that and he has been fully checked out: 8
Demichelis: Class personified, reading the game really well, making some important interceptions, and excellent on the ball too 8 ***Man of the match***
Mangala Conned by Barnes backing in as was the referee. Mangala would continually end up jumping over the top of the Burnley striker. Hopefully a lesson learned. Otherwise did well: 7
Kolarov: His passing was dreadful and his defending wasn't much better: 5
Navas: Some good delivery in first half but not as influential after the break: 6
Fernando: Aggressive and competitive and got booked for his troubles: 6
Fernandinho Scored spectacular strike off the underside of the bar. Busy as ever: 7
Nasri: Taking a leading role as a play maker and full responsibility that is a sign of his maturity. He had a tendency to over-elaborate at times but he teed up Fernandinho for his goal: 7
Silva: Lovely swivel and 180 degree turn and showed great poise, calmness and skill to slot home the opener. Worked hard in tandem and rotation with Milner to occupy the Burnley defence. Creative and bright particularly in the first half but his frustration was obvious after he over hit a pass late on: 8
Milner: Worked hard as ever as a makeshift striker but should have scored early on from a Navas cross: 6
Subs:
Jovetic (for Milner 62): Lively and good combination play with Lampard nearly brought a winner. Maybe it's time to start with him: 7
Lampard (for Nasri 76):
Sinclair (for Fernandinho 88): Why? n/a
Best Oppo: Barnes: Aggressive and used his strength well up front where he combined well with Ings. Got away with repeatedly backing into Mangala and even conned the referee into giving him a series of free kicks. Took his opportunity to equalise brilliantly. 8
Phil Banerjee
phil.banerjee AT orange.net