MANCHESTER CITY 2 SWANSEA 1: MATCH REPORT
|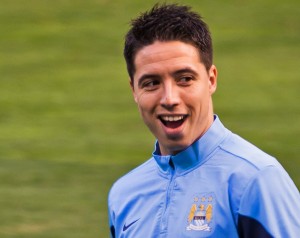 Manchester City 2 Swansea City 1 (HT 1-1)
City fought hard for this satisfying, deserved win against a very good Swansea side and it took a wonderfully worked goal of the highest class to settle this exciting match.
City started off with Sergio Aguero working space for himself on the right hand side of the box before firing wide of the target but it was otherwise a slow start and soon apparent why Swansea were 5th before kick off. With Bony very intelligent in his running, dropping deep into midfield, ten yards off Kompany and with Ki Sung Yung pulling strings in midfield as Swansea stroked the ball round confidently. They were in front in the 9th minute when Bony sneaked in behind the City defence, chesting down a diagonal pass, before coolly stroking the ball past Hart.
There was another heart stopping moment soon after but to much relief, the flag was raised for offside.
"Champions…you're 'avin a laugh", taunted the substantial travelling support from South Wales.
"We know what we are…Champions of England", was the retort, followed by "Cardiff brought more than you"
It was, indeed, was a good atmosphere with Swansea giving us renditions of Men of Harlech and their signature chant:
"And we are singing,
Hymns and chariots,
Land of my fathers,
Ar hyd y nos"
Chariots or no chariots, City were stung into action, "Come on City" filled the air, and with Nasri the main inspiration, we started to get our passing game going. Much to our relief City were level in the 19th minute. Yaya fed Navas wide on the right and the Spaniard's perfect low cross from the right was swept in by Jovetic, unmarked in the six yard box.
Buoyed by this, City took control. The right hand side of Swansea's defence then targeted Sergio Aguero with some rough house tactics. First Bartley was booked after flattening our surge with a crude challenge then Rangel took his turn to inflict pain on the brilliant City striker who reacted angrily. For a moment it looked like the referee was about to lose control but thankfully the situation calmed and we got a game that was very pleasing on the eye, as you would expect from two teams with so many fine ball players.
With Nasri frequently coming inside off the left flank to make the play in the centre and Fernandinho adding bite and a bit of snap in midfield, Yaya awaking from his sluggish start, and Aguero bursting with energy and commitment, City upping the tempo, much to the delight of an audibly purring home crowd.
Aguero ran towards the box in the 40th minute then found Clichy out wide on the left, and the Frenchman struck a powerful shot which Fabianski did very well to push onto his post. The gasps all round where as much for the sheer power of Clichy's shot as much as the fact that it was Clichy who hit it!
Nasri and Fernandinho buzzed around in midfield while Yaya lent his classy touch as City looked more like Champions.
Zabaleta had a shot deflected behind as City turned the screw up to the break, and there was warm appreciative applause for City as both left the pitch at the break.
HT 1-1
Swansea started off well again after the break and we were grateful for Joe Hart's point blank block after Montero was played in onto a pass.
It was City, however, who looked more likely to score, despite Swansea's silky football and attacking threat.
Sergio Aguero's 22 yard sharp shot was deflected just wide of the left hand post.
Pablo Zabaleta was frustrated when he fired over when placed after an incisive Navas pass. Sigurdsson could only fire into Hart's raised arms from distance after getting a tad too much room in midfield, but it was the blue who were dominating. On the hour, Fabianski had to make smart low block from Yaya Toure's fierce drive after good work from Nasri, and was grateful to see the ball cleared by a defender. Within a minute Jovetic's goal bound shot was blocked by a Swansea defender.
There was only so long that Swansea could hold out, and in the 63rd minute City took the lead with a thrilling, superbly executed goal. As Swansea tried to break away from a set piece they surrendered possession and Demichelis intelligently played in Fernandinho as he entered the box. Fernandinho swivelled, and deftly back heeled the ball into the path of Yaya, who skipped past a challenge, then took another touch past a second defender before slotting home from the angle. It was a brilliantly worked goal of breath taking skill, speed and precision. Yaya was actually caught by Taylor in the first challenge but commendably stayed on his feet continue his run. The Etihad (barring around 2,000 Swansea fans) was delighted!
There was no letting up and there were appeals for handball when Aguero's shot was blocked, though it was more ball to hand, then Jovetic's shot from the rebound was 18 inches over the bar.
There was some impressive attention to detail from some of our fans with low level pantomime booing of Shelvey as he came onto the pitch for Carroll, as Gary Monk tried to change the course of the game. Lampard was sent on for Jovetic by Pellegrini.
Yaya Toure played a super incisive pass to the advancing Zabaleta in the inside right channel and the City cult hero fired narrowly over.
More changes in personnel followed from both managers and the highly impressive Nasri was replaced by Milner and earned a richly deserved ovation for a delightful, starring, creative display.
Despite dominating we started to get a few jitters. Lampard uncharacteristically gave the ball away, Bony's shot was blocked and Shelvey shot over in the 83rd minute.
City then thrillingly broke away at pace and had a wonderful chance to seal the points after Aguero won the ball in midfield, ran at the retreating Swansea defence, and unselfishly squared to Navas who could not quite find the finish, with Fabianski making a brilliant save with his legs. Oh, the frustration! We really should have put the match to bed there and then. Other chances came and went. Milner then had his shot blocked from another Navas cut back from the right. Yaya's hot then deflected through to Fabianski after good work from Milner on the left.
Our nerves were becoming rather frayed as Swansea looked threatening. Bony chipped over a terrific deft lobbed to the advancing sub Gomis and the City support held its collective breath as he advance one-on-one with Hart. It was one of those moments that seems to last forever. You're expecting the net to bulge, but you're hoping it doesn't. Thankfully it didn't. The advancing Hard spread himself superbly well, making the target as small as possible and Gomis fired well wide. It was, nevertheless, a heart stopping moment. I couldn't help think that if it had been Bony on the end of the pass, rather than providing it, he would have scored.
City were playing mainly on the break by this time. Aguero brilliantly chested down Zabaleta's clearance on half way, showing great strength, pace and skill, before advancing to shoot just wide from the angle with a half chance. Yaya then hit the keeper with a similar chance after he wriggled clear of Swansea defenders just inside the box, so City nails were still bitten to the stub. Oh, Manchester, so much to answer for!
Then we endured another horrible moment after Demichelis gave away a free kick twenty five yards out. Normally the waiting for the free kick is the worst part, but the torture continued after that as dead ball specialist Shelvey's free kick cannoned off the wall, wrong footing Hart. Mercifully for us, the ball looped just wide of our right hand post. Phewwww!
The game was not defined by these late moments of tension. This was a good, hard fought 2-1 win for City against a very decent Swansea side. Fernandinho and man of the match Nasri were the stars for City in a good team performance after a slow start. With Silva absent, it is crucial that Nasri stepped up, and he is getting better as his match fitness and sharpness returns. Both sides could have scored after we took the lead but City should have got the 3rd goal. Credit to both sides in a very good game. It was City's best performance for a while with good signs that we can zip the ball around the pitch at pace
City need to continue in this vein if we are to have any chance of catching Chelsea or winning the FA Cup. We are unlikely to qualify for the Champions League now, so after Tuesday we need to see our best side out there, playing together as much as possible so that the partnerships we have been lacking thus far this season can re-form, and so that we maintain our customary rhythm and tempo.
Goals:
Swans: Bony 9
MCFC: Jovetic 19, Yaya 63.
Att: 45,448
Ratings:
Hart: One crucial save after the break denied Montero and he did brilliantly to spread himself and make the target smaller for Gomis near the end: 8
Zabaleta: Might have done better to pick up Bony before he scored. Given a tough test by the speedy Jefferson Montero but he got stronger as the game went on and dominated him by the end with some well-timed tackles: 7
Kompany: Lacked Lost Bony before he scored and got caught square on as the Ivorian broke which led to him having to bring him down on the half way line and receive a booking. Improved as the game went on and was back to his assertive best before the break and for the rest of the game: 7
Demichelis: Also part of the defensive vulnerability, and surrendered possession a little too easily at times, but like others he improved as the game progressed. Showed his ball playing skills in playing a crucial in the build up to our winner: 7
Clichy: Stop me if think you've heard this one before. Struggled early on and distribution not good at times, but improved in this game. Unlucky not to score with his terrific shot: 7
Navas: Worked hard all afternoon. Lively and a threat with his pace intermittently, putting in a perfect cross in the "corridor of uncertainty" between the goalkeeper and backline for Jovetic to score from. Decision making not always the best, though. Navas was a threat with his pace down the right but he doesn't have the same awareness of Silva and Nasri and this must have been frustrating at times for Pablo Zabaleta who made runs forward to augment the attack.in the first half. To be fair, though, there was an improvement in their understanding: 7
Fernandinho: Back to his aggressive best. We have missed his tenacity, mobility and dynamism in midfield. He offers greater mobility and pressing than his compatriot Fernando in midfield. His back heel to set up Yaya for the winner was briiliant. 8
Yaya: A slow starter, he wasn't tracking his man enough early on, and was ambling back, but he responded to the Swansea goal and was a prominent creative force thereafter, crowning his performance with a brilliantly taken goal, his 2nd of the season. 7
Nasri: Nominally started in Silva's left sided role but frequently came inside to make the play impressively. He inspired a lot of interplay and partnerships partcularly with the likes of Yaya Toure and Navas, something we have lacked in recent games, 8 Man of the match
Jovetic: Took his goal superbly well, showing great technique and anticipation when steering the ball in. He took up some intelligent positions, and made some good runs from deep: 7
Aguero: Very impressive in everything he did, and a great delight to watch. Two incidents which took the breath away summed him up. He twice showed great determination strength, control pace and skill in the second half: once to run onto a ball he had no right to win late on; and his chest control, strength and skill on the run secured possession after a lobbed clearance, when most players would not have had the technique to bring it under control: 8
Subs:
Lampard (for Jovetic 70): Not his most prominent cameo, save for an uncharacteristically poor pass: 6
Milner (for Nasri 70): Some good work and might have scored the elusive goal: 7
Fernando (for Fernandinho 88): n/a.
Best Oppo: Bony: Very intelligent in his movement and passing, and very cool in his finishing: 8
Refwatch: Neil Swarbrick: Showed some inexperience at times, but otherwise ok: 6
Phil Banerjee