MANCHESTER CITY 1 CSKA MOSCOW 2: MATCH REPORT
|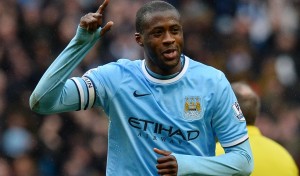 MANCHESTER CITY 1 CSKA MOSCOW 2 (HT 1-2)
City's European nightmare continued as we abjectly crashed to another Champions League defeat in highly controversial circumstances. City were denied two clear penalties late on, and at a crucial phase of the game, Greek referee Tasos Sideropoulos booked the wrong CSKA player which allowed the actual offender to avoid a second yellow and sending off.
City get so many poor decisions both on and off the pitch in the Champions League that it is not looking like a coincidence. With UEFA's skewed so-called "Financial Fair Play" regulations that have punished City with fines that have made their way into the hands of Europe's Establishment clubs, transfer restrictions and the reduction in our Champions League squad size, not to mention suspiciously dodgy group draws for City, UEFA haven't exactly played the role of honest broker. They have allowed people like the Glazers to run up huge debts and take hundreds of millions of pounds out of football and yet they punish Sheikh Mansour and Manchester City when he has put hundreds of millions of pounds into football.
The freezing air was heavy with cordite from the fireworks display and rebellion: a benign but indignant Gunpowder Plot if you like. Many Blues turned their backs on UEFA's awful, pretentious anthem before the game and after yet another terrible refereeing performance the Etihad echoed to sounds of "You can stick UEFA up your a rse". UEFA have hoardings with their emblem and "Respect" but why should anyone respect an institutionally corrupt and biased organisation? Whatever we may think of UEFA and its highly dubious integrity, City played poorly in this thoroughly dispiriting defeat against a quick breaking and well organised CSKA Moscow side.
Pellegrini opted for a 4-5-1 with Jovetic lying deep in an attacking midfield role, with Navas, Yaya, Fernando and Milner behind him. CSKA came with a plan. Sit tight in defence and break quickly through Doumbia and Musa, and they hit us after two minutes when they won a highly dubious free kick on the right hand edge of City's box. The offence? A cross was struck a yard away from Gael Clichy and it struck his hand. He had no means of getting his hand out of the way. Scandalous decision. The free kick was floated in and Doumbia had a free header which he gratefully accepted to take the lead. It was abysmal defending. The stadium was silent barring a couple of CSKA fans who (though they were supposed to be banned) didn't hide their glee.