Book review: Dicks Out – The Unique Guide to British Football Songs
|
Review by: Roger Sharp – The Blue Kiwi
TITLE: Dicks Out – The Unique Guide to British Football Songs
AUTHOR: Larry Bulmer and Rob Mills
PUBLISHER: Chatsby Publishing, PO Box 252, Tunbridge Wells, Kent TN2 3XL, England
ISBN: No 1 874546002
PRICE: £5.99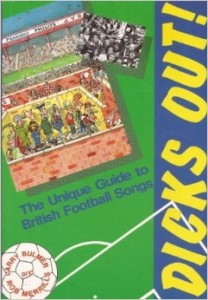 Being a stranger to the shores of Old Blighty for most of my life, I relished the chance to do some background reading on the institution that is the British Football Song. Firstly, I must stress that the copy I read was published in 1992, so some of the chants seem a little out of date, and don't include such gems as "Who Bombed Old Trafford?… Uwe, Uwe, Uwe's Dad". Nevertheless, it is an incredibly interesting book and provides a valuable insight into the diversity (and humour) of those terrace anthems. The book itself is divided into sections dealing with distinct geographical regions; London, North-West and the like. Not every team is included as some are deemed either "too small" or "too quiet" to warrant a mention (e.g. Bolton, Wimbledon etc.). Thankfully, the section on City is fairly comprehensive and provides those non-Manchester based Blues (e.g. me!) with translations for the chants which were previously shrouded in Mancunian accents!
So what's in the book for City fans? Well to start with, the authors go into a fairly in-depth analysis of the roots of our famous "Blue Moon" song. Apparently, their research turned up the fact that us Blues weren't the first to bring the song to the football terraces. They claim that "Blue Moon", originally recorded by the American group The Marcels and later covered by Bob Dylan, was in fact first sung by Crewe Alexandra supporters, though they go on to quote that Crewe adopted the song "in their homely and endearing world of crap crowds and underachievement… However, it's obvious to all and sundry that it was City's followers who popularised the song and made it their own". The book then goes onto give the full set of Lyrics for our most famous anthem, and since we only ever seem to sing the first verse at The Academy (and in the Main Stand's case not at all!) I've written them down for those of us who might not know all the words:
Blue Moon, you saw me standing alone,
Without a dream in my heart,
Without a love of my own.

Blue Moon, you knew just what I was there for,
You heard me saying a prayer for,
Someone I could really care for.

Then suddenly they'll appear before me.
The only one my arms could ever hold,
I heard someone whisper "Please adore me",
And when I looked my moon had turned to gold.

Blue Moon, now I'm no longer alone,
Without a dream in my heart,
Without a love of my own.
And there you have it. Most of the rest of the section on Man. City (5-6 pages in all) tends to follow the pattern of describing our dislike for the rags and the chants that accompany it. Here's a few other ditties that have echoed around The Academy at one time or another:
Blue Moon, you started singing our tune,
You won't be singing for long,
Because we beat you 5-1
This was sung after the famous 5-1 win over the rags in 1989, but may go out of circulation now after the rags' win at The Swamp this year.
Old Trafford they say is a wonderful place,
But I know it's really a f**king disgrace,
And as for United they should be,
Shovelling s**t on the Isle of Capri
Can't say I've heard this one myself, but then again I'm more the Nirvana generation then Bob Dylan! Here's another one I haven't actually heard sung but some of the more "mature" Blues might remember it.
In 1962, we fell into Division Two,
The Stretford End cried out aloud,
"It's the end of the Sky Blues",
Joe Mercer came, we won the game,
We went to Rotherham, we won one nil,
And we were back in Division One.
Since then, we've won the League,
We've won the Cup,
We've played in Europe too (and won!),
And when we win the League this year,
We'll sing this song for you.
Ahh the Good Old Days!!
There is of course plenty more where this came from, but hopefully it gives some sort of idea about the nature of the book. Basically "Dicks Out" is a sound read, but it does appear a little dated at times. Though this does have the flip-side of providing younger Blues with an idea of songs which were flying around Maine Road before they were born. I don't think any football fan would be totally happy with the entry on "their team", and the entry on City is no exception. The book does miss out some classic City chants but I guess we'd probably need a book all to ourselves to fit them all in. Overall an enjoyable, interesting read for only a fiver… and half of that goes to charity!