Aston Villa -Manchester City 0-2 Match Report
|
Venue: Villa Park, Birmingham
Competition: Premier League Week 7
Date: 04/10/2014 17:30 BST
Photos: Richard Tucker
Persistence and patience paid off as City's class eventually won the day to gain a thoroughly deserved three points against a stubborn Aston Villa side. David Silva's quality, in particular, shone throughout this game as he gave a football master class, though it was Yaya Toure who made the crucial breakthrough as City scored two goals in the last 11 minutes of an exciting match.
City dominated nearly all the game. We didn't, though, really play with our usual fluency in the first half. Our passing, was a little too predictable at times before the break and Villa were able to make interceptions of too easily at times. To compound this Yaya Toure had trouble finding his man on a couple of times with passes that he would normally have completed in his sleep. Instead they bounced out of play.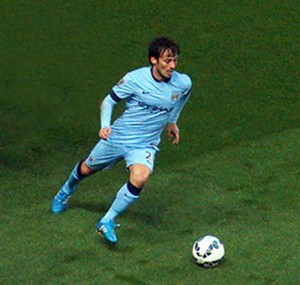 Still, inspired by David Silva, twisting and turning away from defenders, and making the play with some classic playmaking, City fashioned chances to score. Kolarov hit the outside of a post with a typically scorching. Sergio Aguero went closest before the break, glancing a clipped Kolarov cross agonisingly wide of the right hand post. Kolarov, Milner had shots and Dzeko a header had deflected behind by increasingly desperate blocking Villa defenders as City end the half the stronger.
Despite the lightening quick Villa stalwart Agbonlahor being taken ill in the warm up, our back line had to be vigilant to thwart Villa's swift counter attacks. With Kompany in particularly fine form, City snuffed out much of the danger. Villa went closest when Hart safely gathered after Weiman stretched but couldn't get enough contact on a dangerous N'Zogbia cross.
There could have been a goal at either end in the 48th minute. Aguero really should have scored when Milner slid him in with a perfect defence splitting pass, but hit the inside of the post. Villa broke away and N'Zogbia played a perfect through ball, but a heavy touch from Richardson allowed Hart to smother the Villa midfielder 's shot. It was gripping stuff as the game went up a few gears.
Silva pinched a ball he should have had no right to and fed Aguero who teed him up, and after arcing away from defenders, Silva's deflected shot was brilliantly parried by the impressive Guzan.
Thereafter a combination of desperate, in depth Villa defending and classic goalkeeping was keeping City out. Another lovely Silva touch afforded Aguero the chancecto go on one of those diagonal runs across the penalty box with defenders trailing in his wake, before forcing another Guzan save.
Pellegrini then made changes that changed the game further in our favour. Lampard came on for the injured Fernandinho just before the hour then most significantly, Fernando came on for Dzeko and this allowed Yaya to play a little further forward. It was all City. Mangala powerfully headed an arrowing Kolarov corner but Guzan was equal to that too.
David Silva was awesome and was running the game. Indeed, it was literally the magnificent, Merlin masterclass in magic. He was everywhere, passing the ball with great foresight, then finding little pockets of space to receive the return ball ready to make the next silky, progressive move, before twisting and turning away from defenders who couldn't get a touch.
In the 68th minute he dribbled into the box and his shot was saved by Guzan. Two minutes later he steered a Milner cross just wide. City continued to probe: Villa stoutly resisted. Mangala powerfully headed an arrowing Kolarov corner but Guzan was equal to that too in the 74th minute. Tension ratcheted up with every minute that we remained level. It felt like it was just going to be one of those days, and there was always the spectre of Villa breaking away and mugging us like they did on their home ground last season.
This time though we had an insurance policy by the name of Fernando, ever ready to end Villa breakaways. Kompany and Zabaleta too were rock solid in their reading of the game and sharp tackling.
Then Milner fed Silva who was tackled but Lampard's shot was saved in the 82nd minute.
Tick followed tock followed tick followed tock as, agonisingly the tension grew by the second. Could we score? Or was it one of those days when it won't go in for us. The Villa defenders strove manfully to stop us but they were tiring, and our mesmerising attacks were leaving them with twisted blood.
At last, we found the way through and what a lovely goal it was. Yaya who had been finding his rhythm and passing accuracy as the game progressed, squared a pass to Fernando in the 83rd minute and calmly took the return. Yaya then drove into the middle of a quintet of exhausted Villa defenders and stroked a sumptuous curling left foot shot just inside the left hand post past Guzan's flailing arms. Ah, the relief! It was such a beautiful strike.
We didn't have long to worry about Villa equalising. Six minutes later in the 89th minute, Yaya passed to Milner who drove a pass from the right to Aguero in a central position just outside the box. Aguero controlled the ball, set himself up with another touch before smashing home a terrific clincher just inside the right hand post. Game over!
It was nothing less than City deserved. Bringing Fernando on and releasing Yaya to run at tiring defenders proved decisive. City's most significant match winner delivered once again. Hopefully it will be the first of many more.
For all Yaya's failed attempts and poor behaviour to get a last lucrative contract with the "Cakegate" affair it has to be remembered that here is a young man who lost his younger brother. That cannot have been easy for him and his family. He has handled all that after a long, tense season and World Cup which prolonged it further. Allowances have to be made. After all, he is human even if many of his performances for City have been super human.
The second half of this game was excellent from City: as good as we have played all season. It was the show of Champions.
Next page: Details and ratings: