QPR 2 MANCHESTER CITY 2: Match report
|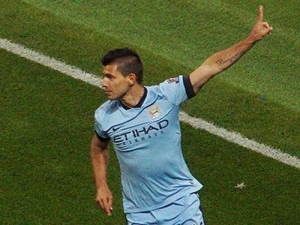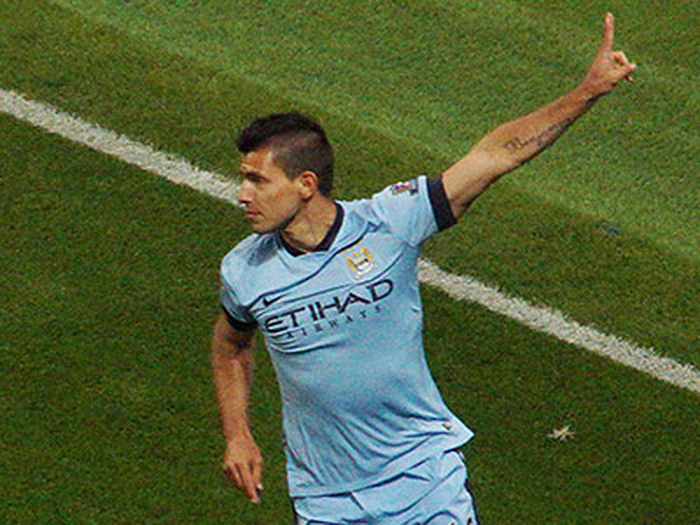 QPR 2 MANCHESTER CITY 2
Sergio Aguero again proved City's saviour in this draw against relegation strugglers QPR at Loftus Road. City look short on confidence and at times didn't show the application and in some cases, the commitment needed to win. Both Fernando and Clichy were guilty of pulling out of tackles in this game and the former's lack of commitment to a challenge led to QPR making it 2-1.
We started off well enough in the first 7 minutes with Aguero firing just over from distance. QPR had the ball in the net when Austin headed in, but he was at least 4 yards offside, but instead of being taking heart from the fact that our defence stepped up to catch the QPR striker out, we became nervous, and more mistakes followed. Joe Hart's double touch presented Austin with the ball which he despatched into the net. The referee was correct to disallow it on account of Joe's inadvertent touch resulted in the ball not leaving the penalty area before he touched it again, meaning it should be a retake (the QPR players and crowd gave the impression that they didn't know the rules, but who did in all honesty?!) [Please see Law 13 explanation at the end of this report]. City became ever more jittery as an unjustifiably angry QPR (the other Austin netting was clearly offside) got stuck in and upped the tempo. Too often our passing was sloppy and misdirected and our defence was chronically jittery. We sorely missed Vincent Kompany, and Hart had to make an important save to deny Austin. Our passing accuracy of 78% in this game was well below our best. Yes, QPR closed us down quickly well, but too often we didn't complete a simple ten yard pass: Fernando, Mangala, Clichy and Yaya being serial offenders. It was no surprise when Austin from Isla's cross gave QPR the lead after a Clichy slip. City really struggled to get a grip on the game.
Thankfully Sergio Aguero was our saviour in another World Class show. He latched onto a long pass from Mangala, twisted and turned Caulker and Richard Dunne before sweetly striking a left foot shot into the net to equalise. QPR were whining about hand ball, but the ball actually hit his hand inadvertently. It was a brilliant finishing.
QPR weren't deterred by our equaliser and Hart had to make two more excellent saves to deny Austin, though he was offside for the latter of these.
City dominated possession in the second half as QPR were not quite as quick in the tackle, and Nasri cross agonisingly just eluded the sliding Yaya Toure. However, we still made unforced errors with Yaya amongst others serially kicking into touch or failing to find a team mate with a simple pass. QPR must have always felt that they had a chance of winning the game.
Vargas and Austin were always a threat for the home side, and it didn't take much to test our jittery defence. With Clichy struggling and not getting much help from his team mates, Isla and Vargas, in particular profited down our vulnerable left side with some good interplay and searching crosses for Austin and Zamora. Demichelis did well to deflect a Fer shot behind from an Isla cross. Fernando, who was having a nightmare in midfield, at least managed to make a last ditch interception to deny Zamora an easy tap in from an Austin cross. We were then grateful to see a Vargas cross deflected wide after it pin balled in the City box.
Nasri and Navas worked well together in attack for City, and Isla did well to clear a Navas cross in the six yard box with Aguero closing. A Yaya cross from the right just eluded Aguero in the 64th minute. On came Dzeko as we switched from the 4-5-1 we'd finally got to a 4-4-2 but a muscle injury saw the Bosnian go off after less than 4 minutes. So, on came Lampard for Dzeko and then Milner for Nasri.
Despite our dominance of possession, there was always a nasty feeling that we could concede at any time, and City did in the 76th minute. After a half-hearted challenge in midfield from Fernando, Vargas won the ball, and fed Austin who found space to cross from our left, up went Zamora and Demichelis and the ball went into the net off the Argentine's head. Unlucky on Demi's part, but Fernando's lack of commitment was inexcusable.
City desperately sought an equaliser and QPR did their utmost to cling on to their lead. Three times QPR had to clear off the line as City enjoyed a sustained spell of pressure. In the first of these, Joey Barton's short back header presented Aguero with a chance but Richard Dunne was on hand to scurry back and sweep the ball away. Caulker twice cleared off the line from Milner and Yaya in quick succession after Navas crossed from the right. Then Milner had a goal bound shot deflected behind, and Mangala couldn't quite turn Sagna's wide shot into the net. It was all City!
City finally equalised with a top class strike in the 83rd minute. Yaya Toure, sitting deep, picked out the run of Aguero with a beautiful long pass. Aguero deftly chested the ball down, and danced round Green with QPR defenders funnelling back and showed trickery and great composure, skill and balance again to coolly slot in with his left foot.
It was a relief that we didn't lose, but we have been over relying on individual brilliance for a while now, and our performances and results bear this out.
The poor form continues and is not helped by Pellegrini making changes to our defence. It was bad enough losing Kompany to injury but to rest Pablo Zabaleta weakened our defence unnecessarily. Madness. Aguero apart, City's players are some way from their best, but this is exacerbated by Pellegrini further unsettling the back four. Fernando's selection over Milner was in truth, scandalous.
The positives? Aguero of course was brilliant. His pace, touch, composure and finishing were absolutely excellent. Pellegrini started with 4-5-1 and despite wayward passing City dominated possession and had the better chances. Hopefully he will stick with this formation. Is the penny finally dropping with him? Nasri looked better and better as the game went on and was bright and creative. Milner was a danger when he came on but he should have started over the Fernando who was woeful. Despite a handful of poorly misdirected passes, Yaya was influential and created the second goal, but he and most of the team can play much better than this. We are not pressing anywhere near enough. Furthermore, City were worthy Champions again last season and we need to show the belief of Champions.
Chelsea are now 8 points clear and deservedly so. Pellegrini and his City team need to find their mojo again or we will have a fight to make top four let alone put in any kind of defence of our title.
If only everybody played at the level of the brilliant Sergio Aguero.
Ratings:
Hart: Made three brilliant saves. His distribution was poor though. 7
Sagna: The best of a bad bunch, but he doesn't look anywhere near as good as Zabaleta at his best. Indeed, have Arsenal seen his best days? 6
Demichelis: Unlucky with the own goal, but he didn't provide the leadership and authority in his play, and he too was prone to gaffes: 5
Mangala: Looked nervous and jittery. Poor positioning saw him easily by-passed for QPR's opener. His distribution was often poor, with him failing to complete the most simple pass. He did provide a wonderful pass for Aguero to score the opener and he did improve as the game went on, cutting out some dangerous crosses: 5
Clichy: really struggled on the left but didn't get much help. He was too easily beaten though and pulled out of some tackles: a cardinal sin particularly for a defender 5
Fernandinho: Poor and 2nd to too many challenges. Probably needs a run of games to get up to speed but can we afford that? Seems a shadow of the player who broight tempo, pressing and tackling to our midfield last season. Has Brasil's World Cup woes had an effect on his confidence? 5
Fernando: Absolutely woeful. Gave the ball away easily, not always committed in the tackle, and this cost us our second goal. He made one vital interception to cut out a cross, otherwise, he was far from the player that we saw in the opening matches. Can he handle a fast-paced game in an English winter on wet pitches? : 4
Navas: Some good crosses and was a threat down the right when served. 7
Yaya: Showed great vision to find Aguero with a great pass for our second equaliser. Showed o lack of effort here, but his passing was well below what he is capable of: 6
Navas: Bright and inventive in spells, and worked a good partnership with Navas at times We'll need more of that and more interplay with Yaya too: 7
Aguero: Clearly City's best player. Great touch, technique and balance to bring long passes under control, then show composure and skill to finish coolly: 9
Goals:
QPR: Austin 20, Demichelis (og) 75,
MCFC: Aguero 32, 83.
Att: 18,005
Subs:
Dzeko (for Fernandinho 64) Desperately unfortunate to be injured within four minutes of coming on: n/a
Lampard (for Dzeko 68) Neat without making a real impact: 6
Milner (for Nasri 74): Was a driving creative player who looked a danger once he came on: 7
Best Oppo: Austin: Scored one, and made one. Not a bad transition from non-League to Premier League. Used his frame well, but we made it easy for him at times: 8
Refwatch: Mike Dean: Missed a couple of fouls on City players but a far better show than last time we had him:7
The QPR support was embarrassing. Booing our every touch particularly Hart is one thing and fair enough (even if they don't know the laws of the game), but singing "Stend ap if you lav Man U" is frankly embarrassing. Who do they support? The QPR fan who shouted "Grow up Sagna, how mach manny are you on?" after the City full back had been slammed into the advertising hoardings by the not inconsiderable hulk that is Bobby Zamora, and dared to be in pain as a result, was pathetic. Is there a certain weekly wage level where footballers suddenly become immune to pain?
Excerpts from Law 13 (thanks Match of the Day!):
The kicker must not touch the ball again until it has touched another player
The ball is in play when it is kicked directly out of the penalty area
If, when a free kick is taken by the defending team from inside its own penalty area the ball is not kicked directly out of the penalty are, the kick is retaken.
Phil Banerjee