Preview: Hull City 27.9.14
|
And so to Hull at the traditional kick off time of 3 pm on a Saturday. The KC Stadium is found by walking through pleasant parkland from the western side and is a neat, modern little ground (capacity about 25,000) with good sight lines and facilities. It's one of the smaller modern stadiums of course but has everything a the modern fan needs unlike the modernised old stadiums such as Old Trafford, Anfield and Everton which are really very short of what we can reasonably expect these days. You know when a ground is rubbish because the pundits tell you it has character.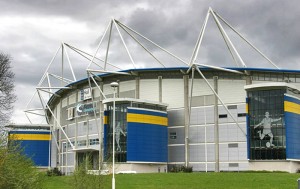 In the close season Hull arguably did the best business of all Premier League clubs although naturally Chelsea grabbed the headlines. Spending only a net £22.55m, they signed Livermore, Snodgrass, Dawson and Diame amongst others and at the last minute took the talented Hatem Ben Arfa from Newcastle United on a season long loan. Ben Arfa played his first 90 minutes his season in the Capital One Cup but it is reported that he won't play against City .
The other thing Hull City is famous for is unfortunately all too common these days: they have an owner who knows and understands the club better than the fans. Assem Allam wants to change their name to Hull Tigers but has been refused by the F.A.He even suggested that City is such a boring name that were he to be in charge at the Etihad, he'd change our name to Manchester Hunter which only goes to prove that in general, the more money and power you have, the more likely it is that you will succumb to an uncontrollable urge to become a bit of a prat.Our current owners appear to be a glorious exception to this so far.
City have played Hull on 18 occasions since their first win in 1909 but have only met six times since the Greed is Good league began in 1992. There have been three wins for City, two draws and one defeat by Hull in 2010 at their ground. Last season they played well at the Etihad and were rather unlucky to lose 2-0 but at the KC Stadium Manchester City went down to ten men yet comfortably won 2-0 – one of our ten? doubles last season .  We have Silva and Aguero back for this one but Nasri, Fernando and Jovatic are a week or so away from full fitness.
Who cares ? — Milner would probably get the nod over Nasri now anyway and with Zabaleta having served his suspension on Wednesday we should have a full strength back four. I'm looking forward to seeing the competition between Mangala and Kompany for fastest football playing centre back in the league but not to the Journey along the full length of the M62 which is now one of our slowest and most congested roads.
Prediction? We thrash 'em one each and Phil will have a rant about the ref.